GreenWays: Leadership for a Clean Energy Future
Bentley Systems, Inc., Exton, Pennsylvania USA
By: Malcolm Walter, Chief Operating Officer & Senior Vice President; Bhupinder Singh, Senior Vice President, Bentley Software
---
On any given day, Bentley colleagues and software users around the world are focused on infrastructure and the lifecycle of infrastructure. So what's Bentley all about these days? Well, maybe more than you think. Having reinvented itself over the last decade from a traditional CAD/GIS company into a global software powerhouse, its stated mission is to support the enterprises and professionals who design, build, and operate the world's infrastructure – sustaining the global economy and environment, for improved quality of life. Learn more about how Bentley sees the future of infrastructure planning, design, and development unfolding in this interesting and insightful interview with two high-profile members of Bentley's leadership team. – Ed.
Malcolm Walter
Chief Operating Officer
& Senior Vice President
Bentley Software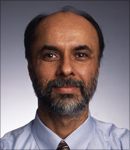 Bhupinder Singh
Senior Vice President
Bentley Software
EET&D : First, I want to thank you both for taking time to share your vision of the future for the energy/utility industry with me and with our readers. However, I have to admit that until last fall I was under the impression that Bentley was essentially a CAD/GIS company. Since then, I've had the opportunity to learn more about where the company is headed, and let's just say it's quite a bit different from my earlier impressions. Assuming that I'm not the only one who wasn't 100% up to speed on the latest developments, let's start with a quick overview of where the company is focused today…
Walter : Simply stated, Bentley is all about sustaining infrastructure. I'll explain more about what that means in a minute, but I want to start by acknowledging that we all witnessed some fairly major disruptions to the energy/utility business model in the last decade. As a result of those disruptions, we need to figure out how to engineer the 21st century utility. At Bentley, our role is to provide solutions to design, build, and operate that utility infrastructure, along with all of the other types of infrastructure the global community depends on for improved quality of life. On any given day, thousands of our Bentley colleagues and software users around the world are focused on infrastructure and the lifecycle of infrastructure.

EET&D : Let's talk a little more about how Bentley is positioned and where you operate…

Walter : As you know, our worldwide headquarters is in Exton, Pennsylvania, and then we also have regional headquarters. For Europe, the Middle East, and Africa, our headquarters is located in Dublin, Ireland, and for Asia its in Beijing. Although we're a U.S.-based company, our reach is truly worldwide, as evidenced by the fact that 58% of our business comes from outside North America, and we have nearly 3,000 employees operating in more than 45 countries.

EET&D : And from a technology perspective?

Singh : Bentley software is being used by 90% of the top engineering firms around the world, and we're the world's leader for providing software for infrastructure design, construction, and operations. Moreover, we're number one in building performance, structural design, water modeling, road and transit design, bridge engineering, and number one in plant operations.

EET&D : Can you offer some insights about how you've achieved such a pervasive global presence and position?

Singh : Bentley has chosen a very sustainable approach as a company. We've extensively focused on offering robust, flexible subscription services to our users and more recently on 'software as a service.' We go to market in two ways: with individual products – which help our users where there are solution requirements that can be well defined and met with standard, off-the-shelf products – and also through solutions, which are aggregations by industry of capabilities and products across our core product areas. Each is designed to meet the needs of infrastructure lifecycles for specific classes of infrastructure. From a products standpoint, our baseline subscription service provides technical support and on-demand updates to our products as they're developed and enhanced. Just recently we introduced an innovative new "sustainable licensing" business model based on annual Portfolio Balancing. Through Portfolio Balancing, new purchasers of Bentley product licenses, along with existing Bentley SELECT subscribers, can annually exchange underutilized Bentley software for software of equal value that meets existing or upcoming needs.

For more complex challenges, we allow our enterprise customers to use any amount of Bentley software for a fixed annual fee, based simply on usage logs. All of this allows us to offer very broad capabilities that support the needs of utilities, from plant to point of service.

EET&D : That's a great synopsis of Bentley overall; now let's move to energy and utilities more specifically. Maybe a good beginning would be to explain what you mean by 'engineering the 21st century utility' and perhaps articulate some of the challenges that utilities are currently facing along those lines.

Walter : Energy and utilities are a significant focus for Bentley. We've been servicing this area of business for over two decades. In recent years we've made substantial acquisitions to broaden our technology base, and we've also evolved and significantly extended our software offerings for this part of the market, globally.

EET&D : You seem to imply that the challenges are different now; how so?

Walter : Utilities have been at the center of the global community's quality of life over the last century, but particularly since the 1930s and 1940s, when utilities delivered universal power – even to rural areas. Providing affordable, reliable and abundant energy was the key to that equation for decades. However, we're seeing today that a change is needed. Cheap, reliable energy has been taken for granted, and as a result inefficiencies have developed in the supply chain of energy to end users.

EET&D : As most of us in the industry already know, grid architecture hasn't fundamentally changed since the 1930s and '40s. Moreover, a substantial proportion of the grid infrastructure today – whether for generation, transmission or distribution – has either reached or is rapidly approaching its end of life. So, a lot of change is needed for all of those reasons. Will the old energy paradigm sustain energy delivery from fossil fuels and people's expectations of a cleaner, safer, sustainable world?

Walter : Bhupinder, I'll let you take the first shot at that one.

Singh : First, there's the issue of reducing carbon emissions. Whether the result of public pressure, government mandates, or international agreements, it's something that isn't going to be solved with a simple answer and probably not with a singular answer.
In developing countries – primarily in Asia, the Middle East, and Latin America – population growth, along with the need to expand infrastructure to support it, is also an issue. In addition, developing economies have growing manufacturing and primary industries, which means that their demand for energy is increasing.

Distributed renewable power generation is rapidly becoming more prevalent, and renewable energy resources have to be brought into the grid and delivered efficiently to the places where they are needed. That will mean a fundamental change in the structure of the grid and its ability to respond to changes in the power source. There will also be microgeneration and local storage as technologies emerge to support their development and commercialization on a mass-market basis.

EET&D : So then, the bottom line is that utilities need to plan for a sustainable, efficient, reliable, cleaner, and more affordable electric grid?

Walter : Yes, we believe massive investments will be required in energy infrastructure around the world. And, notably, there will not be smart power generation or a Smart Grid without smart infrastructure information. This is where we begin to cross over into the 'engineering of the 21st century utility.' Why? Because you simply won't be able to do these things without software infrastructure that delivers smart infrastructure information to the engineers and designers. Those are the people who design and operate the overall infrastructure from generation to point of delivery – and everything else in between.

Singh : I'd just like to add that according to the International Energy Agency in its 2008 World Energy Outlook report, much of the world's current infrastructure for supplying oil, gas, coal, and electricity will need to be replaced by 2030. From an aging infrastructure perspective, this is a major turning point for utilities.

Walter : I should point out that we are not the only ones delivering this message. There are several books out there that are looking at the changes likely to take place in the 21st century utility. Thomas Freidman, a well-known American author and journalist focused on economics and economic trends, wrote a book called Hot, Flat, and Crowded, which I'm sure most of your readers are probably familiar with and many have likely read. In his book, Freidman focuses on the need for a transformation in the way energy is generated and delivered to end users. Here's a particularly cogent excerpt from that book:

"The energy internet … has the power to give us more growth with fewer power plants, better energy efficiency and more renewable energy … by smoothing out the peaks and valleys in energy demand."

But that won't happen without a transformation in the nature of the infrastructure that delivers and generates that energy.

In that same book, Jim Rogers, the high-profile and frequently outspoken CEO of Duke Energy, says:

I have to take my grid and make it smart and make everyone's home into a smart home and everyone's factory into a smart factory and then optimize them all so that everyone gets the most service for the least money and the least amount of CO2."

EET&D : Well, those are indeed some substantial challenges. Do you have an opinion on how all of this relates to the ongoing evolution of the Smart Grid?

Walter : The Smart Grid is part of the good news! It will enable better monitoring and management of the grid using a variety of technologies, including software applications that will aid in designing and operating this infrastructure. It will be able to respond in real time to changes in the network and demand patterns over the grid. There will be more self-diagnosis and self-healing in the grid, which will reduce the number of outages.

Singh : And the Smart Grid also brings the promise of distributed and microgeneration support, which is difficult to incorporate into our existing delivery systems, which were designed primarily for one-way power distribution. Over time, the intelligent grid will be able to support real-time pricing, with the added benefit of load management – or Demand Response, as it is now widely called. Demand Response has the potential to reduce demand and peak loads by influencing usage patterns using a dynamic pricing model.

Walter : And of course there are government incentives to effect change. Besides the stimulus bill, there are many other government-driven incentives for investment in new technologies to help shape the modern utility of the 21st century.

EET&D : Okay, we've identified the solution areas that you feel will provide substantial value to utilities as they move forward with reinvestment in infrastructure. But can you perhaps frame the nature of those solutions on a more categorical basis?

Walter : Sure. Our solutions encompass three essential areas of interest: engineering/design, team collaboration, and, most recently, asset lifecycle information management (ALIM). These target some of the most important areas of a utility's business. We're talking about providing intelligent 3D infrastructure design of power generation facilities and substations, efficient engineering collaboration across distributed project teams, and ALIM to greatly improve information integrity and operational efficiency while streamlining the business processes associated with sustaining infrastructure assets over their lifecycles. Bentley has the experience and holds a leadership role in these critical areas, and we continue to focus our investments around these challenges, now and into the future.

EET&D : Obviously, there are lots of challenges ahead as we transform the grid from what it's been for nearly a century to what it needs to be for this next one, and it's hard to say which of the myriad obstacles will prove to be the most onerous or will take the longest and cost the most to overcome. Where do you feel engineering the 21st century utility fits into the grand scheme of things?

Walter : We acknowledge that these challenges may or may not be at the top of the priority list for every utility today. However, we're quite certain that they will be at the forefront of many decisions in the coming years. Changes are always more difficult when the available solutions are not clearly understood. Bentley has the technology and the professional teams around the world to help decompose the larger issues into manageable, high-impact projects. We are truly aligned with the priorities of our utility clients and have been serving the needs of energy and utilities for most of our 27 years as a company. Our commitment to helping engineer or re-engineer the 21st century utility empowers utilities to move their engineering, design, and management projects forward aggressively, and confidently.