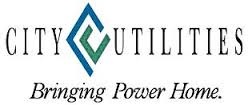 Mechanic-1st Year - Job ID 1000858
Organization : City Utilities
Location: United States, Missouri, Springfield
End of contest: June 13, 2014
Type (Full time / Part time): Full time
Description
RESPONSIBILITIES
Under the general direction of the Supervisor-Fleet Management or designee, overhauls, repairs services automobiles, buses, trucks, and other equipment. Replaces and adjusts fuel, electrical, hydraulic, pneumatic, and cooling system components found on a variety of vehicles and equipment. Overhauls component parts and systems of vehicles and equipment. Performs arc and acetylene welding on various pieces of equipment. Installs, adjusts, and repairs automatic transmissions. Inspects, repairs, and maintains functional parts of mechanical and electrical equipment. Works with computerized testing equipment. Records all direct and indirect labor in computerized fleet management system. Utilizes computerized fueling system. Operation of wrecker and related towing tasks involving all types of vehicles and equipment. Responsible for providing and maintaining hand tools as required by management subject to update. Performs other related duties as assigned by management. Must be able to work successfully with diverse groups of people.
Miscellaneous:
Subject to Department of Transportation's Drug and Alcohol Testing Program requirements. Required to wear uniforms provided by City Utilities.
Requirements
EDUCATION and EXPERIENCE:
High school graduate or equivalent is required. Formal training in hydraulics, pneumatics, air conditioning, automotive electrical systems, or related training is required. Exceptional experience may be considered in lieu of formal training requirement. Four to six years' trade related mechanical experience is required. Experience in major overhaul/rebuild of gas and diesel engine and automatic transmissions required. Arc and acetylene welding experience required. Must be able to work on all types of brake, fuel, electrical, hydraulic, pneumatic and air conditioning systems, along with all related components. To be familiar with computer controlled electronic fuel systems found on vehicles. Must be able to use, however, not limited to, special diagnostic testing, repairing and scanning equipment, along with special machine shop equipment used to rebuild components of each area mentioned above.
KNOWLEDGE/SKILLS/ABILITIES
Must have knowledge in the diagnosis and repair of computerized vehicle and equipment control systems. Required to stay current with new technology to perform related job duties.
PHYSICAL REQUIREMENTS
Must have full body mobility. Must be able to stand for extended periods of time. Requires walking, bending over, reaching, stooping, twisting, kneeling, squatting, crawling, climbing into and onto equipment, working on uneven surfaces, walking and working on wet surfaces and surfaces with debris. Requires use of and strength in both upper and lower body to assist, stabilize, and push or pull. Requires strength to climb into and onto equipment with ability to support full body weight to guard against falling. Requires repeated use of hand and power tools, including lifting, pushing, pulling, and twisting while holding the tools. Must have adequate upper and lower body strength for safety purposes. Must be able to lift up to 50 pounds unassisted, with much greater weights being lifted with assistance from other employees or mechanical lifts.
WORKING CONDITIONS
Primarily indoor vehicle repair shop environment; however, may be required to perform field duties outside in all weather conditions.
TESTING
Practical and written testing will be required for this position.
DEADLINE TO APPLY
Any candidate who meets the qualifications as posted may submit an on-line application to the Employment Office. Applications will be accepted until a position is filled.
HOW TO APPLY
Interested applicants may apply online. Please complete the application in full. Your information will not be fully considered until the entire application is complete.

City Utilities is an Equal Employment Opportunity/Affirmative Action Employer, M/F/D/V.
Salary & Benefits
SALARY
$24.42/hour
WORK SCHEDULE
Any/All
Shift work and/or overtime may be required
Employment Office
(417) 831-8460
employment@cityutilities.net
Contact
Organization:
City Utilities
Address:
PO Box 551
Springfield
Missouri United States
www.cityutilities.net