Industry Specialist StatPlan Energy Forecasts Five Year 13.2% Increase in Annual Global Gas Meter Market Value, $2.29 Billion in 2013 to $2.82 Billion in 2018. Global Installed Base of 455 Million Meters to Increase Steadily, But Key Growth Regions Will Be China and Russia
---
January 8, 2014
A new report "Gas Meters: Global Market and Forecast 2013 - 2050" from energy industry specialists StatPlan Energy highlights short term growth stimulated in part by smart metering but mainly by the need for replacement metering in the many countries without smart meter plans in place.
These will principally be installed in China, which will continue its gasification progress from a relatively low base, and Russia, with continued expansion of the extensive gas network and more importantly, increasing the use of household meters. For the international metering industry these two markets present big challenges as they are very largely supplied by domestic manufacturers, with mainly large bulk and specialised gas meters being imported.
In Europe and North America there will be some growth in gas coverage in varying degrees. Some countries have reached saturation, notably Netherlands (95% coverage), Italy (90%) and UK (82%) and demand in these markets is driven by replacement need if no smart meter option has developed. Other markets present opportunities for increased coverage, such as Russia (63% coverage) and the USA (50%) plus some other smaller economies. There will also be opportunities for conversion from LPG to natural gas notably in Japan and Mexico.
The business case for gas smart metering is less attractive than for electricity. There has been a fairly substantial growth in smart gas metering in the US, mainly with the addition of communication modules attached to existing diaphragm meters. Otherwise, with some exceptions, the gas metering market will not see a move into smart metering at anything like the pace predicted for electricity, which itself is turning out to be slower than originally expected.
'In terms of annual demand for gas meters, we forecast that North America and Asia Pacific (excluding China) will remain flat, but there will be growth in Europe. This is only to a limited extent on the back of smart metering plans. At the time of publication, only Italy is in the process of a gas smart meter rollout, and seven other countries (including Germany, United Kingdom and Netherlands) have decided on a rollout' says StatPlan director Euan Blauvelt, 'so we expect Europe to increase its share of the global demand. But much of the global market will be replacement, non-AMI units, unless smart meter plans change, as those units installed historically reach their useful life end.'
Regional Share of Global Gas Meter Market: 2012 - 2018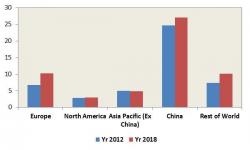 StatPlan Energy has identified six key drivers in the gas meter market, all of which contribute to the forecasts produced, short- and long-term. New technology introductions (smart metering and smart grids) and regulatory and government action of course have the major impact, but StatPlan considers other key variables which, especially in the long term, have a fundamental impact on future demand.
These include demographic trends (population change and household growth), increased gasification (number of end points) and the replacement cycle (which can only be calculated accurately if both the installed base AND the history of installation is understood). StatPlan Energy has developed 19 key databases, rigorously researched and constantly updated, that provide our forecasts with the most robust foundations.
Details of how to purchase "Gas Meters: Global Market and Forecast 2013 - 2050" can be found at www.statplanenergy.com. This report provides detailed assessment of the future of the electricity meter industry with short term forecasts to 2018 (by value, units and unit type) and long term trends to 2050. There are 48 country profiles and forecasts and options for adding databases to the order.
The sister Electricity Meter report is already available and a further publication, on Water Meters, is due for publication in Q1 2014.
About StatPlan
StatPlan is a market research and publishing company specialising in the energy industry, especially electricity, and associated industries around the world. It publishes a range of reports, forecasts and databases and offers ad hoc consultancy for the energy sector. Clients include many of the world's leading management consultancies, investment institutions and manufacturers.
For more information: