CyberLock Electronic Access Control
---
The CyberLock system provides utilities with the ability to increase access control at remote locations or areas where pulling hardwiring is not feasible. CyberLock is comprised of locks, padlocks, and keys, all of which are electronic. Lock cylinders and padlocks are installed without the need for power or wiring, the power for the locks comes from the battery in the key.
The electronic locks and smart keys record openings as well as unauthorized attempts to gain entry. This detailed audit reporting of each person's key activity and lock openings is valuable for confirming maintenance checks, reconciling billable hours and, most importantly, meeting government security mandates.
CyberAudit management software offers system managers the ability to program the electronic keys with access schedules, view a log of lock and key activity, and create custom audit reports. Additionally, email alerts can be created to keep management updated so informed decisions can be made when potential security issues arise.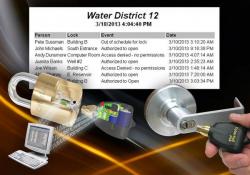 For more information: