CIBANO 500 The future of circuit breaker testing
---
All in one
OMICRON's CIBANO 500 is the first 3-in-1 test system to combine a precise micro-ohmmeter, a multi-channel timing analyzer, and a powerful coil and motor supply in a single, lightweight device (20 kg / 44.1 lbs). This enables all standard tests to be carried out on all types of circuit breakers, either with power supplied by the station battery or by CIBANO 500.
Software-supported testing
CIBANO 500 is controlled via OMICRON's proven Primary Test Manager (PTM) software. The PTM actively guides the user through the entire testing process. Once testing is complete, the user is promptly provided with a clearly structured test report, which combines all results in a single document, displayed as either a diagram or a table.
Innovative accessories
Together with CIBANO 500, the CB MC2 module enables dynamic contact resistance testing to detect signs of wear and tear on the main and arcing contacts.
The CB TN3 transducer node allows you to carry out circuit breaker motion analysis. Together with CIBANO 500 and a motion sensor, it checks the entire switch mechanism and the mechanical links during the opening and closing process.
Comprehensive circuit breaker tests
Timing and Travel
Contact Resistance
Dynamic Contact Resistance (DRM)
Command Coil Signatures
Motor Current Analysis
Minimum Pick-up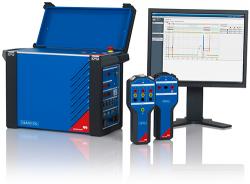 CIBANO 500 and accessories: the future of circuit breaker testing
 
---
Company profile
OMICRON is an international company serving the electrical power industry with innovative testing and diagnostic solutions. The application of OMICRON products allows users to assess the condition of the primary and secondary equipment on their systems with complete confidence. Services offered in the area of consulting, commissioning, testing, diagnosis and training make the product range complete.
Customers in more than 140 countries rely on the company's ability to supply leading edge technology of excellent quality. Service centers on all continents provide a broad base of knowledge and extraordinary customer support. All of this together with our strong network of sales partners is what has made our company a market leader in the electrical power industry.
For more information: