Megger's New S1 Series 15kV Insulation Tester
---
The S1-Series is Megger's premium range of high performance insulation testers. The latest addition to the S1 family, the S1-1568, provides 15kV DC insulation testing capabilities. By extending the maximum test voltage to 15 kV, the S1-1568 allows compliance with NETA MTS-1997 and NETA ATS 2007 for medium-voltage motors, and IEC 60229 2007 for electric cables with a special protective function. All units are preconfigured with diagnostic tests including Polarization Index (PI), Dielectric Absorption Ratio (DAR), Dielectric Discharge (DD), Stepped Voltage (SV) and Ramp test. This allows even first time users to quickly become productive with the instrument.
The ultra-tough S1-Series is built to work wherever you work. The S1-1568 features a dual case design – a flame retardant inner case is protected by a tough outer shell that can withstand rough knocks and drops, and keeps out moisture and dust during storage and transport. It has been designed to provide accurate insulation resistance measurements even in the most extreme environments. All test terminals have a CATIV 1000V safety rating up to 4000m in altitude. With its 8mA noise immunity and 4 user-selectable software filters, the S1-1568 is able to provide stable measurements even in noisy 765kV substations. The fast charge Li-ion battery can be fully charged in 2hrs and the unit can be powered through an AC source even when the battery is flat. The S1-1568 can be remotely operated via the isolated USB interface to provide additional operator safety in high energy locations.
Test results can be stored in memory, time/date stamped, and recalled to the large LCD screen. Users can also use Bluetooth® or USB interface to transfer data to PowerDB, Megger's advanced data management software. PowerDB provides many additional functionality to S1-Series users such as graphing measurements in real-time and generating test reports.
Learn more about the new S1 series or schedule a demonstration today.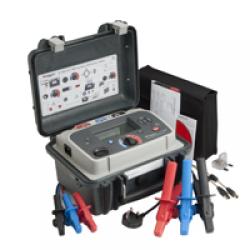 For more information:
Organization:
Megger

Address:
4271 Bronze Way
Dallas, Texas
United States, 75237-1019
www.megger.com

Contact:
Sales Office
Toll-free: 1-800-723-2861
E-mail: sales@megger.com