Iberdrola S.A. Awarded 300 MW Combined-Cycle Power Plant Project in Baja California, Mexico
---
January 24, 2014
Iberdrola USA parent company, Iberdrola S.A. has been awarded a contract for the construction and operation of the 300 megawatt (MW) Baja California III combined-cycle power plant in Mexico. Work on the $270 million plant and associated facilities will begin in April 2014 with commercial operation planned for August 2016.
Iberdrola won the bid through an international tender process which also included a 25-year power purchase agreement with the Mexican Federal Electricity Commission (CFE). CFE also will supply the natural gas to fuel the new plant's two GE turbines.
With this contract, Iberdrola, which already has an operating capacity of more than 5,200 MW in Mexico, consolidates its position as the country's largest private electricity producer and the second largest producer in Mexico, after the state-owned CFE.
Iberdrola has been a leading energy producer in Mexico since 1998, and considers it, along with Brazil, as strategic locations for Latin American business growth. Between 2012-2014 Iberdrola plans to invest approximately '2.4 billion in the region - about ¼ of Iberdrola's worldwide investments of '10.5 billion.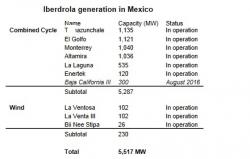 About Iberdrola S.A.
With 31,000 employees, 45,000 megawatts of installed capacity and more than $40 billion in market capitalization, Iberdrola is one of the world's largest electricity companies and a global leader in renewable energy. It serves a population of 100 million, with a special focus on Spain, the UK, the U.S., Brazil, and Mexico. www.iberdrola.com.
About Iberdrola USA
Iberdrola USA holds all U.S. operations of its parent, Iberdrola S.A. Our companies provide renewable and thermal electricity generation, electricity transmission & distribution, natural gas storage & distribution, and renewable energy operations & services in 24 states stretching from New England to the West Coast. With $30+ billion in assets and nearly 5,000 employees, Iberdrola USA is one of the largest, most diversified energy companies in the U.S.
For more information:
Organization:
Iberdrola USA

Address:
52 Farm View Dr
New Gloucester, Maine
United States, 04260-5166
www.iberdrolausa.com
Tel: 207-688-6300