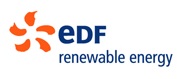 EDF Renewable Energy Signs Power Purchase Agreement with Southern California Edison for 19.8 MW Wind Project
---
January 29, 2014
EDF Renewable Energy has announced a 20-year Power Purchase Agreement with Southern California Edison (SCE) contracted through the California Renewable Auction Mechanism (RAM) competitive procurement program. The 19.8 megawatt (MW) Patterson Pass wind energy project is located in the Alameda County portion of the Altamont Pass Wind Resource Area east of San Francisco.
The Patterson Pass Wind Project is a repowering effort whereby older technology is upgraded allowing for increased generation of clean energy with fewer wind turbines. Approximately 300 Nordtank and Bonus 65kW turbines, originally installed in 1985, will be removed as part of the development process.
'Patterson Pass is another example of utilizing modern siting practices along with advanced turbine technology to improve efficiency and environmental considerations,' said Rick Miller, Director of Wind Business Development at EDF Renewable Energy. 'The modernization of older 'legacy' projects is an important component of our overall development portfolio. Patterson Pass will see a 96% reduction in the number of wind turbines, which demonstrates our ongoing environmental stewardship of the site and surrounding area.'
EDF Renewable Energy will develop, own and operate the wind project with SCE purchasing the power generated. Commercial operation is anticipated for the end of 2015. EDF Renewable Services will continue to operate and maintain the project.
About EDF Renewable Energy
EDF Renewable Energy is a leading U.S. independent power producer with more than 25 years of expertise in the renewable industry, covering all range of services from project development, management to operations and maintenance. EDF Renewable Energy specializes in wind and solar photovoltaic with presence in other segments of the renewable energy market: biogas, biomass, hydro, marine energy and storage solutions. The company develops, constructs, operates and manages renewable energy projects throughout the United States for its own accord as well as for third parties. EDF Renewable Energy's portfolio consists of 4 gigawatts of developed projects with 1.9 gigawatts of installed capacity. EDF Renewable Energy is the U.S. subsidiary of EDF Energies Nouvelles. EDF Energies Nouvelles is the renewable energy arm of the EDF group, the leading electricity company in the world.
For more information:
Organization:
EDF Renewable Energy

Address:
15445 Innovation Dr.
San Diego, California
United States, 92128-3432
www.edf-re.com

Contact:
Sandi Briner
EDF Renewable Energy
Tel: 858-521-3525
E-mail: Sandi.Briner@edf-re.com