New Charlotte-based energy partnership brings innovative solar tracker to Carolinas
---
February 3, 2014
A new partnership will bring the innovative AllSun Tracker' solar electric system to homeowners and businesses throughout the surrounding Charlotte area. The dealer partnership between local installer Accelerate Solar and solar tracker manufacturer AllEarth Renewables was announced on January 30th.
With offices in Charlotte, NC, Accelerate Solar is a family owned solar energy system provider with over 20 years of solar energy experience. They provide full service solar engineering, design, installation, permitting, and equipment services for homes, buildings, municipalities, and non-profits.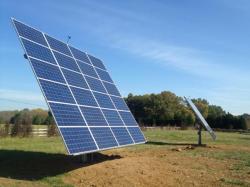 Accelerate Solar's first solar tracker install in Fort Mill, South Carolina
 Designed and manufactured in Williston, VT, AllSun Trackers use innovative GPS and wireless technology to follow the sun throughout the day to boost solar energy production by up to 45 percent over roof-top installations. The ground-mounted solar systems are designed for homes, businesses, non-profits, and commercial-scale installations.
A single 6 kW solar tracker will produce enough to power most of an average Carolina home.
'We are committed to meeting our growing customers' needs and the AllSun Tracker is an excellent addition to our installation options. More and more people are excited about creating their own source of energy and with the AllSun Tracker they can optimize their production and get a better return on investment,' said Chris Verner, Partner of Accelerate Solar.
'We are excited to be partnering with the team at Accelerate Solar and to be able to provide our product to the Carolinas. Designed to produce more energy from the sun, our trackers make solar practical and affordable for homeowners and businesses,' said David Blittersdorf, president and CEO of AllEarthRenewables.
The AllSun Tracker was selected as a top-10 green product for 2012 by BuildingGreen magazine and recently won two top products of the year awards for their innovative tracker pallet, designed to simplify shipping and installation for the company's national partners.
AllEarth Renewables, a 2012 Inc 500 company for fastest growing businesses, has designed, manufactured, and installed over 1,750 complete grid-connected solar tracker systems.
For more information: