W.I.R.E. Services, a division of Manitoba Hydro International Ltd, Announces New Managing Director
---
February 7, 2014
W.I.R.E. Services, a division of Manitoba Hydro International Ltd., announced that their founding Managing Director, J. E. (Jim) Koop has recently retired from his position of leading the day-to-day operations of W.I.R.E. Services. His successor, Mr. Wesley Mueller, assumed the role of Managing Director on January 15th, 2014. Mr. Koop will continue on in a consulting role to market the expertise of W.I.R.E. Services.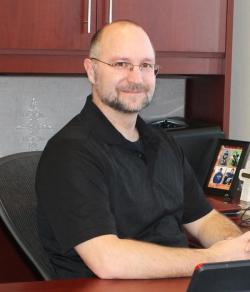 Wesley Mueller comes to W.I.R.E. Services with over 20 years in the transmission line industry. 'I am really excited about the opportunity to work with the professional staff here at W.I.R.E. Services. Jim built a company with a strong core of highly technical & qualified personnel and I hope to carry on where he left off, in providing high quality products to the utility industry', stated Mr. Mueller. Wesley started his career leading maintenance and design projects for Manitoba Hydro's transmission line system and has been the cornerstone for many multi-million dollar maintenance construction projects. From 2008 to present, he was the manager responsible for the development and implementation of diagnostic inspection programs, building a Transmission GIS system to improve asset data access and availability, and directed the asset investment strategies for the maintenance of Manitoba Hydro's transmission line system. Wesley received his Bachelor of Science in Civil Engineering from the University of Manitoba, Canada in 1991.
About W.I.R.E. Services
W.I.R.E. Services was founded in 2001 as a business under the direction of Manitoba Hydro, Canada's 4th largest electric and gas utility. The business provides LiDAR data collection services and transmission line modeling along with analysis and transmission line design services to numerous utility clients. In 2009, the business amalgamated with other Manitoba Hydro utility divisions to form the Manitoba Hydro International (MHI) subsidiary. Under this amalgamation, W.I.R.E. Services was able to utilize and leverage a much broader range of clients and collaborate with other subsidiary businesses to offer greater services.
For more information:
Organization:
WIRE Services/Manitoba Hydro

Address:
211 Commerce Drive
Winnipeg, R3P 1A3
www.wireservices.ca
Tel: (204) 480-5800

Contact:
Adam Vitt, B.Comm (Hons)
Project Administrative Coordinator, W.I.R.E. Services
Tel: 1 204 477 7616
E-mail: avitt@wireservices.ca