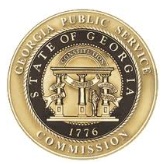 PSC Recognizes Georgia Power Efforts in Restoring Electricity to Customers Affected by Winter Storms
---
February 19, 2014
The Georgia Public Service Commission (Commission)  publicly recognized Georgia Power Company for its extraordinary work in restoring power to more than 700,000 customers who were left without electricity as a result of the winter ice and storm last week. Commissioners applauded the Georgia Power crews who worked around the clock during the three day event to restore customers affected by power outages. Georgia Power's Emergency Operations Director Aaron Strickland appeared before the Commission during today's (Feb. 19) Administrative Session on behalf of the Company. Strickland directed Georgia Power's electric power restoration efforts during the storm crisis.

'Georgia Power crews left the warmth of home and their families while it was snowing and sleeting. They were up in buckets doing a dangerous business,' said Commissioner Stan Wise. 'One of the unknown and unrecognized people (involved in this) is Aaron Strickland. He is recognized all over the country as an expert that other utilities look to as to how they monitor and how they establish their storm centers and their response. I want to thank you and all those who work with you on behalf of ratepayers, the company and the Commission for restoring power in the state,' Wise added.

Strickland said, 'We had people (repair crews) out as long as two weeks. They worked tirelessly for hours in this crazy weather and I salute them.' Strickland is a 35 year veteran of the Georgia Power Company. In addition to managing the Company's Emergency Operations Center, he also directs the Company's mutual aid program which provides assistance to utilities outside the state of Georgia who request aid in times of emergencies.
.
The Georgia Public Service Commission is a constitutional agency that exercises its authority and influence to ensure that consumers receive safe, reliable, and reasonably priced telecommunications, electric and natural gas services from financially viable and technically competent companies. Additional information can be found on the Commission web site, www.psc.state.ga.us.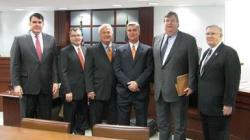 Georgia Power Emergency Operations Director Aaron Strickland is recognized by the Georgia Public Service Commission. From left to right: Commission Chair Chuck Eaton, Commissioner Tim Echols, Commissioner Lauren 'Bubba' McDonald, Jr., Strickland, Commissioner Stan Wise, and Commissioner Doug Everett
For more information:
Organization:
Georgia Public Service Commission

Address:
244 Washington St SW
Atlanta, Georgia
United States, 30334-9007
www.psc.state.ga.us
Tel: 404-656-4501

Contact:
Bill Edge, Public Information Officer
Georgia Public Service Commission
Tel: 404-656-2316
Toll-free: 800-282-5813
E-mail: bille@psc.state.ga.us