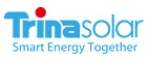 Trina Solar Announces Fourth Quarter and Fiscal Year 2013 Results
---
March 4, 2014
Trina Solar Limited (TSL) ("Trina Solar" or the "Company"), a global leader in photovoltaic ("PV") modules, solutions, and services,  announced its unaudited financial results for the fourth quarter and fiscal year 2013.
Fourth Quarter 2013 Financial and Operating Highlights
Solar module shipments were 770.1 MW during the fourth quarter of 2013, compared to 774.6 MW in the third quarter of 2013
Net revenues were $525.6 million, a decrease of 4.1% from the third quarter of 2013
Gross profit was $79.1 million, a decrease of 5.2% from the third quarter of 2013
Gross margin was 15.1%, compared to 15.2% in the third quarter of 2013
Cost of revenue was $446.5 million, a decrease of 4.0% from the third quarter of 2013
Operating income was $14.1 million, an increase of 133.8% from the third quarter of 2013
Operating margin was 2.7%, compared to 1.1% in the third quarter of 2013
Net income was $9.6 million, a decrease of 3.5% from the third quarter of 2013
Earnings per fully diluted American Depositary Share ("ADS" and each ADS represents 50 of the Company's ordinary shares) was $0.13, compared to $0.14 in the third quarter of 2013
Full Year 2013 Financial and Operating Highlights
PV module shipments were approximately 2.58 GW, compared to 1.59 GW in 2012
Total net revenues were $1.77 billion, an increase of 36.9% from 2012
Gross profit was $218.2 million, an increase of 281.2% from 2012
Gross margin was 12.3%, compared to 4.4% in 2012
Operating loss was $43.8 million, a decrease of 83.5% from 2012
Net loss for the full year was $77.9 million, a decrease of 70.8% from 2012
Loss per fully diluted ADS for 2013 was $1.09, compared to a loss of $3.77 in 2012
"We are pleased to report that in the fourth quarter we continued to make progress in executing our operating strategy across all key geographies and end segments. In particular, we are seeing substantial sales growth in China, and anticipate that trend to continue following the government's increased target of 14 GW in new solar installations for 2014. Our efforts to diversify our business beyond the traditional markets in Europe and the USA where we have maintained leading positions and into additional emerging markets have progressed well. Geographical diversification will continue to be a key strategic focus in 2014. We have achieved significant sales volumes in 2013 in new non-traditional markets, including China, Japan, South East Asia and the Middle East.
"Operating and financial management remained a key focus in 2013, and I am happy to announce that operating expenses as a percentage of revenue declined substantially from 17.1% in the first quarter of 2013 to 12.4% in the fourth quarter. In addition, our dedication to fiscal discipline has generated positive results across most key metrics. Days of sales outstanding and inventory days continued to decrease over the previous quarter. As we closed the fourth quarter, Trina continued to stand out among its Chinese solar peers as maintaining one of the relatively healthier balance sheets. We will continue to focus on ensuring the right balance between business expansion and maintaining our financial strength.
"As a leader in R&D and innovation, Trina Solar achieved a breakthrough in cell technology in the quarter. After two years of research, Trina Solar announced it had jointly developed an Interdigitated high efficiency Back Contact ("IBC") cell in partnership with the Australian National University (ANU). The IBC cell, independently tested by the Fraunhofer CalLab in Germany, was able to deliver an efficiency of 24.4%, putting it among the most efficient solar cells to date. Trina Solar has independently developed a commercial version of the IBC cell and expects it to be ready for trial production in its "golden line" production line as one of Trina's focuses for R&D in 2014.
"To ensure Trina Solar has access to sufficient production capacity to meet the anticipated increase in global demand in 2014, the Company recently announced two strategic investments in China to expand its solar cell and module production capacity. These agreements provide Trina Solar with the means to efficiently and cost-effectively increase production capacity as needed. At the same time this initiative has an important role to play in helping to achieve the healthy and sustainable growth of the Chinese solar industry. We expect consolidation to continue in the solar sector. This is beneficial for the industry as a whole, but ultimately for customers and end-users as well.
"In 2014, we are optimistic that solar PV demand will continue to be strong and expect China, Japan, as well as the broader Asia Pacific region and the Middle East to be key drivers of this increased demand. At the same time, we remain committed to securing ongoing growth in Europe. To capitalize on this growing demand, we will work towards solidifying our leading position in modules sales. At the same time, we will focus further on developing downstream projects and increase the contribution from these projects to our total revenues and gross margins. To achieve this goal we have been building project pipelines in a number of different geographical regions that we anticipate will provide the Company with a platform for further growth." said Mr. Jifan Gao, Chief Executive Officer of Trina Solar.
Click here to read the full press release.
For more information: