Government of Canadian Recognizes Bruce Power's Successes
---
March 6, 2014
Ben Lobb, Member of Parliament (MP) for Huron-Bruce, on behalf of Prime Minister Stephen Harper, presented a certificate of recognition to Bruce Power as a leader in Canada's nuclear industry and as the Country's largest public-private partnership.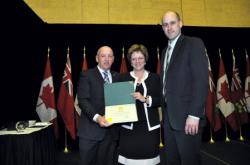 Duncan Hawthorne, left, Bruce Power President and CEO, receives a certificate from the Prime Minister's Office recognizing Bruce Power's contributions to Ontario's energy sector, from Diane Finley, MP for Haldimand-Norfolk and Minister of Public Works and Government Services, and Ben Lobb, MP for Huron-Bruce, in Ottawa on Feb. 27.

'I'm honoured to present this recognition to Bruce Power as not only a respected employer in my riding but as Canada's largest public-private partnership,' Lobb said. 'The Bruce Power public-private partnership model has worked and is positively recognized not only across Canada but around the world. Bruce Power also generates 30 per cent of Ontario's electricity at 30 per cent below the average cost, and that's good for our economy.'
Bruce Power launched a new outreach effort to communicate the facts about Ontario's Nuclear Advantage at www.ontarionuclear.com.
About Bruce Power
Bruce Power operates the world's largest operating nuclear generating facility and is the source of roughly 30 per cent of Ontario's electricity. The company's site in Tiverton, ON, is home to eight CANDU reactors, each one capable of generating enough low-cost, reliable, safe and clean electricity to meet the annual needs of a city the size of Hamilton. Formed in 2001, Bruce Power is an all-Canadian partnership among Borealis Infrastructure Management (a division of the Ontario Municipal Employees Retirement System), TransCanada, the Power Workers' Union and the Society of Energy Professionals. A majority of Bruce Power's employees are also owners in the business.
For more information:
Organization:
Bruce Power Inc.

Address:
177 Tie Rd - RR2
Tiverton, Ontario
Canada, N0G 2T0
www.brucepower.com
Tel: 519-361-2673

Contact:
John Peevers
Dept. Manager, Communications/Media Relations
Tel: 519-361-6583
E-mail: john.peevers@brucepower.com