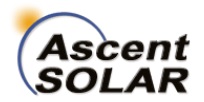 Richard Hashim is Appointed Vice President and General Manager of EnerPlex Division at Ascent Solar Technologies, Inc.
---
March 10, 2014
Ascent Solar Technologies, Inc. (NASDAQ:ASTI), a developer of state-of-the-art, flexible thin-film photovoltaic modules integrated into the Company's EnerPlex' series of consumer products, announced that Richard Hashim has been appointed Vice President & General Manager of the EnerPlex consumer electronics division.
Mr. Hashim brings a wealth of international C-level experience in the technology and consumer electronics sectors. He has a proven track record of 17 years with Corsair Components, Inc. He was one of their pioneering employees, growing and managing a team which built a successful profitable international company and an industry-leading global brand from start-up stage. He has held various executive roles in leadership, general management, sales and marketing, internationally, in Asia and Europe.
Mr. Victor Lee, CEO of Ascent Solar, said, "We are honored to have an industry veteran coming onboard Ascent Solar. Mr. Hashim is perfectly suited to helm the continued rapid expansion of our EnerPlex brand globally. His depth of experience in both international and domestic sales, as well as his complex understanding of the marketing and product development cycles of consumer-oriented businesses are invaluable assets as we continue to grow the EnerPlex brand worldwide.'
Mr. Hashim said, "The EnerPlex brand represents an extremely exciting opportunity. I am excited by both the revolutionary technology behind the brand, and also the extremely talented team which I will have the privilege to lead; I look forward to bringing EnerPlex - 'The Ultimate Portable Power Solution' to consumers around the globe.'
Prior to Corsair, Hashim worked with Shell Petroleum in Malaysia, managing their national branding and advertising campaigns. He holds a Bachelor's degree in International Business from Tufts University and a MBA with a Marketing concentration from Boston University.
About Ascent Solar Technologies:
Ascent Solar Technologies, Inc. is a developer of thin-film photovoltaic modules with substrate materials that can be more flexible and affordable than most traditional solar panels. Ascent Solar modules can be directly integrated into standard building materials, aerospace applications, consumer electronics for portable power or configured as stand-alone modules for large scale terrestrial deployment. Ascent Solar is headquartered in Thornton, Colorado. For more information, go to www.ascentsolar.com.
About EnerPlex:
The EnerPlex brand represents Ascent Solar's line of consumer products. These products, many of which are integrated with Ascent Solar's transformational CIGS technology, provide consumers with the ability to integrate solar into their everyday lives, while enabling them to free themselves and their electronics from the outlet. For more information on the EnerPlex brand and to see the product line, please visit www.goenerplex.com.
Forward-Looking Statements:
Statements in this press release that are not statements of historical or current fact constitute "forward-looking statements." Such forward-looking statements involve known and unknown risks, uncertainties and other unknown factors that could cause the Company's actual operating results to be materially different from any historical results or from any future results expressed or implied by such forward-looking statements. In addition to statements that explicitly describe these risks and uncertainties, readers are urged to consider statements that contain terms such as "believes," "belief," "expects," "expect," "intends," "intend," "anticipate," "anticipates," "plans," "plan," to be uncertain and forward looking. The forward-looking statements contained herein are also subject generally to other risks and uncertainties that are described from time to time in the Company's filings with the Securities and Exchange Commission.
For more information:
Organization:
Ascent Solar Technologies, Inc.

Address:
12300 N. Grant St.
Thornton, Colorado
United States, 80241
www.ascentsolar.com

Contact:
Brion Tanous, CleanTech IR
Ascent Solar Technologies
Tel: 310-541-6824 or Mobile: 424-634-8592
E-mail: btanous@cleantech-ir.com

Contact:
Justin R. Jacobs
Ascent Solar Technologies
Tel: 1-720-872-5194
E-mail: jjacobs@ascentsolar.com