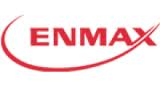 ENMAX reports financial results for 2013
---
March 14, 2014
ENMAX Corporation (ENMAX) announced its financial results for the year ended December 31, 2013. Earnings for the year were $352.5 million, compared to earnings of $225.0 million in 2012. The increase is a result of the $175.9 million gain from the sale of ENMAX Envision Inc. in Q2, 2013. In 2013, earnings from continuing operations were $172.3 million compared to $215.6 million in 2012. This decrease reflects the negative impact of the extended outage at Keephills Unit 1 coal plant (that, when operating, provides power to ENMAX under a power purchase arrangement) offset by improved margins in other parts of the business.
Fourth quarter earnings in 2013 were $88.3 million compared to $63.9 million in the fourth quarter of 2012, reflecting higher operating margins in the regulated business. As part of the year-end process, ENMAX declared a dividend of $60 million to be paid to The City of Calgary in 2014. "ENMAX faced both unique opportunities and extreme challenges in 2013, including an unprecedented flood that affected our Calgary system and a significant loss of supply due to the Keephills outage," said Gianna Manes, President and CEO, ENMAX. "With planning, strong execution and tireless dedication by our ENMAX team, we overcame these challenges, seized opportunities and successfully closed the year with a strong fourth quarter and solid overall safety, operational and financial performance for 2013 providing for a substantial dividend to our Shareholder, The City of Calgary." 
Click here to read the full press release.
For more information: