Schneider Electric Canada donates $230,000 to Habit for Humanity Canada; $2M since 2004
---
March 17, 2014
On March 11, Schneider Electric Canada reached a milestone in its relationship with Habitat for Humanity Canada.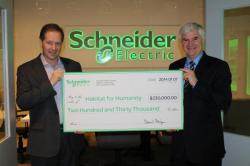 Schneider Electric Canada president Daniel Peloquin presents Kevin Marshman, president & CEO of Habitat for Humanity Canada with a $230,000 donation at the company's Mississauga office. The donation brings Schneider Electric's total contributions to close to $2M since 2004.
With a donation of $230,000, presented to Habitat for Humanity Canada president Kevin Marshman, Schneider Electric has donated close to $2M in equipment and monetary contributions to Habitat for Humanity Canada since 2004.
Schneider Electric Canada has long been affiliated with Habitat for Humanity, participating in a number of builds, projects and providing support with cash and in-kind donations for more than 10 years.
For more information:
Organization:
Schneider Electric

Address:
Boston One Campus 800 Federal Street
Andover, Massachusetts
United States, 01810
www.schneider-electric.com

Contact:
Jennifer Rideout
StrategicAmpersand for Schneider Electric Canada
Tel: 416-961-5595 ext. 438
E-mail: jennifer@stratamp.com