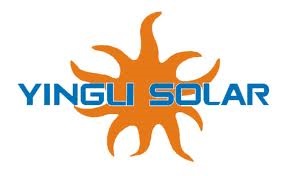 Yingli Green Energy Reports Fourth Quarter and Full Year 2013 Results Full Year 2013 PV Module Shipments Reached a Historic High of 3.2 GW
---
March 18, 2014
Yingli Green Energy Holding Company Limited (NYSE: YGE) ("Yingli Green Energy" or the "Company"), the world's largest vertically integrated photovoltaic manufacturer, known as "Yingli Solar," announced its unaudited consolidated financial results for the quarter and full year ended December 31, 2013.
Fourth Quarter 2013 Consolidated Financial and Operating Summary
Total net revenues were RMB 3,711.1 million (US$613.0 million).
Total PV module shipments (including shipments for PV systems) increased by 11.4% from the third quarter of 2013.
Overall gross profit was RMB 451.7 million (US$74.6 million), representing a gross margin of 12.2%. Excluding the year-end tax adjustment, gross margin for sale of PV modules would be 14.2%.
Operating loss was RMB 594.2 million (US$98.1 million), representing an operating margin of negative 16.0%, including a provision of RMB 480.2 million (US$79.3 million) on the Company's inventory purchase commitment under long-term polysilicon supply contracts. Excluding such non-cash charge, operating loss would be RMB 114.0 million (US$18.8 million) and operating margin would be negative 3.1%.
Net loss[1] was RMB 776.2 million (US$128.2 million) and loss per ordinary share and per American depositary share ("ADS") was RMB 4.95 (US$0.82). On an adjusted non-GAAP[2] basis, net loss was RMB 289.9 million (US$47.9 million) and loss per ordinary share and per ADS was RMB 1.85 (US$0.31).
[1] For convenience purposes, all references to "net loss/income" in this press release, unless otherwise specified, represent "net loss/income attributable to Yingli Green Energy" for all periods presented.
[2] All non-GAAP measures exclude, as applicable, share-based compensation, interest expenses consisting of changes in the fair value of the interest rate swap and the amortization of the debt discount, the amortization of intangible assets, inventory provision, impairment of long-lived assets and non-cash provision for inventory purchase commitments. For further details on non-GAAP measures, please refer to the reconciliation table and a detailed discussion of the Company's use of non-GAAP information set forth elsewhere in this press release.

Click here to read the full press release.
For more information:
Organization:
Yingli Green Energy Holding Co., Ltd.

Address:
3399 North Chaoyang Avenue
Baoding, Hebei
China, 071051
www.yinglisolar.com