Arlen Orchard chosen as new SMUD general manager and CEO
---
March 26, 2014
Arlen Orchard, general counsel, has been named to succeed John Di Stasio as the Sacramento Municipal Utility District's (SMUD) general manager and chief executive officer.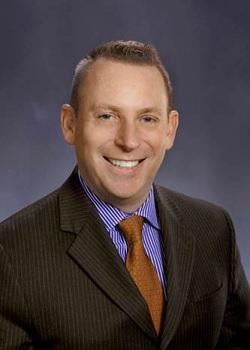 Orchard, a 24-year SMUD veteran, verbally accepted the offer from the SMUD Board of Directors to fill the GM position after a national search. The appointment will be finalized when the SMUD Board of Directors issues a formal approval at its April 3 meeting. Orchard would assume his new position April 12. Di Stasio's last day as GM and CEO is April 11. Di Stasio announced his retirement last fall after working at SMUD for more than 32 years.

'I am honored to be chosen by the Board of Directors and humbled to be given the opportunity to run this great organization,' said Orchard. 'That the Board chose from among the internal candidates speaks highly of the excellent work of SMUD's staff over the years.'

Orchard says the focus on the customer and the community will continue to power SMUD forward. 'The utility industry and SMUD have many opportunities and also face many challenges. The guiding principle of delivering the best possible service and reliability at the lowest possible rates will continue to make SMUD a key community leader,' said Orchard.

'SMUD attracted many strong candidates, each eager to lead one of the most progressive utilities in the world,' said Genevieve Shiroma, president of SMUD's Board of Directors. 'After many interviews, followed by thorough deliberation, it became clear that Arlen was the best choice to navigate SMUD through the increasingly complicated legislative and regulatory environment, while keeping our power generation running, making progress reducing our carbon footprint, and ensuring that electric rates remain affordable,' Shiroma said. 'Arlen's expertise as SMUD's general counsel for more than a decade will serve our customer-owners very well.'

Orchard moves to SMUD's top post after serving as general counsel for SMUD since 2001. In that capacity, he served as SMUD's top lawyer.

Orchard joined SMUD in 1990 as a staff attorney and served as assistant general counsel before accepting the general counsel post. He serves on the Board of Trustees for the Northwest Public Power Association and as the general counsel for the California Municipal Utilities Association. He also serves on the Boards of Directors of Capital Stage, a nonprofit professional theater company, the Greater Sacramento Urban League and the Sacramento Metro Chamber of Commerce.

As the nation's sixth-largest community-owned electric service provider, SMUD has been providing low-cost, reliable electricity for more than 65 years to Sacramento County (and a small portion of Placer County). SMUD is a recognized industry leader and award winner for its innovative energy efficiency programs, renewable power technologies, and for its sustainable solutions for a healthier environment. SMUD is the first large California utility to receive more than 20 percent of its energy from renewable resources.
For more information:
Organization:
Sacramento Municipal Utility District (SMUD)

Address:
6201 S St
Sacramento, California
United States, 95852-1830
www.smud.org
Tel: 916-452-3211