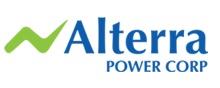 Alterra Power Announces Audited Results for the Year Ended December 31, 2013 and Project Updates
---
March 27, 2014
Alterra Power Corp. (TSX: AXY) ("Alterra" or the "Company") is pleased to report its financial and operating results for the year ended December 31, 2013. For further information on these results please see Alterra's Consolidated Financial Statements and Management's Discussion and Analysis.
Alterra consolidates 100% of the results of operations at HS Orka and Soda Lake, while Alterra's interests in the Toba Montrose run of river hydro facility and the Dokie 1 wind facility are accounted for as equity investments. In certain statements in this news release, Alterra's results are disclosed as Alterra's "net interest", which means the effective portion of results that Alterra would have reported if each of HS Orka (66.6%), Toba Montrose (40%), Dokie 1 (51% from January to December 19, 2013 and 25.5% for the remainder of 2013), ABW Solar (10% from August 23, 2013 to November 29, 2013) and Soda Lake
(100%) had been reported in accordance with Alterra's actual share of ownership at December 31, 2013 and for the twelve months then ended.

Management believes that net interest reporting provides the clearest view of Alterra's performance.
(under IFRS and all amounts in US dollars unless otherwise stated)

Click here to read the full press release.
For more information:
Organization:
Alterra Power Corp.

Address:
600 - 888 Dunsmuir Street
Vancouver, British Columbia
Canada, V6C 3K4
alterrapower.ca

Contact:
Peter Lekich, Corporate Communications
Alterra Power Corp.
Tel: 604.235.6719
E-mail: info@alterrapower.ca