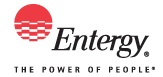 Entergy Reports 2013 Progress on Strategic Imperatives, Creating Sustainable Value Corporation's online integrated report offers interactive features
---
April 2, 2014
Entergy Corporation (NYSE: ETR) has released its 2013 online integrated report, combining material previously presented in the company's annual report to shareholders and its annual sustainability report.
To view multimedia assets associated with this release, please click here.
"Producing one integrated report reinforces our belief that our stakeholders - owners, customers, employees and communities - are inextricably linked and that we must deliver sustainable value to all stakeholders in order to succeed," said Leo Denault, chairman and chief executive officer of Entergy. "By providing an integrated report that combines how we measure and manage our economic, environmental and social performance, we are better able to provide clarity and transparency to all stakeholders."
The report is also Entergy's first Web-based report, which enables greater stakeholder engagement through online feedback tools. By offering the report online, Entergy is able to eliminate the cost and environmental impacts of printing and distributing paper reports to tens of thousands of recipients.
The online format also allows stakeholders to experience the company's 2013 performance through videos, feature stories and other material. Highlights of Entergy's economic, environmental and social successes in 2013 include returning nearly $600 million in cash dividend payments to owners, providing customers reliable energy at some of the lowest rates in the nation, providing $1 million in environmental grants to local community partners and logging a record 100,477 employee and retiree volunteer hours to our communities.
The 2013 Integrated Report can be accessed at integratedreport.entergy.com.
Entergy also produced an annual report to shareholders in accordance with regulatory and New York Stock Exchange requirements. Investors may view and download the annual report by visiting the publications page on the company's website.
Entergy Corporation is an integrated energy company engaged primarily in electric power production and retail distribution operations. Entergy owns and operates power plants with approximately 30,000 megawatts of electric generating capacity, including more than 10,000 megawatts of nuclear power, making it one of the nation's leading nuclear generators. Entergy delivers electricity to 2.8 million utility customers in Arkansas, Louisiana, Mississippi and Texas. Entergy has annual revenues of more than $11 billion and approximately 14,000 employees.
For more information:
Organization:
Entergy Corporation

Address:
639 Loyola Ave
New Orleans, Louisiana
United States, 70113
www.entergy.com
Tel: 504-576-4000