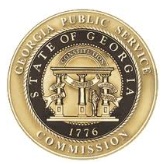 Georgia Public Service Commission Approves Release of Request for Proposals for the Georgia Power Advanced Solar Initiative
---
April 3, 2014
The Georgia Public Service Commission (Commission) has taken another step forward in solar energy development in Georgia and unanimously approved the release of a Request for Proposal (RFP) to solicit bids for the development of 495Megawatts (MW) of solar generation to go on line in 2015 and 2016. The RPF will be posted today on the web site of Accion, Inc., the Independent Evaluator.  Interested bidders should apply through this web site through April 30, 2014. The Commission is expected to make a decision regarding this RFP by December 16, 2014.

This RFP seeks 495 MW of utility scale solar resources, of which the Commission approved 425 MW on July 12, 2013 as part of the 2013 Georgia Power Company Integrated Resource Plan (IRP) and approved 70 MW as part of Georgia Power Company's Advanced Solar Initiative (GPASI) on November 20, 2012.

There are a number of requirements in order for bids to meet the RFP specifications:
The procurement of the 70 MW (ASI) will follow the guidelines from the Commission's November 29, 2012 Order and projects will be limited in size from 1 MW to 20 MW. The bid price plus the costs for any required improvements to the existing transmission and distribution system must not exceed one hundred twenty dollars per MWh ($120/MWh) on a levelized basis. These projects are to come online in 2015.
For the procurement of the 425 (ASI Prime) MW, 210 MW is to be in service by the end of 2015 and 215 MW is to be in service by the end of 2016. The procurement of the ASI-Prime will follow the guidelines as approved by the Commission in the Final IRP Order in that it will be open to all bidders (including the Southern Company and its subsidiaries), consider any and all financial structures, and that consideration must be given to projects which have a meaningful economic impact on the Georgia economy, including projects which propose to use assets owned by Georgia Power. No bids shall be accepted which exceeds Georgia Power's projected levelized avoided cost for the term of the purchase power agreement which varies by contract term and in-service date.
'Solar power continues to make enormous strides in Georgia,' said Commissioner Lauren 'Bubba' McDonald, Jr. 'Since the projects must be located in Georgia, this solar initiative will have a positive economic impact on Georgia,' McDonald added.

"Commissioner McDonald's leadership with solar is garnering national attention," said Commissioner Tim Echols. "Georgia is doing solar right--without a subsidy or a burdensome portfolio standard."

For more information on Georgia Power's Advanced Solar Initiative, go to the Commission web site, www.psc.state.ga.us and search for Docket Number 36325.

The Georgia Public Service Commission is a constitutional agency that exercises its authority and influence to ensure that consumers receive safe, reliable, and reasonably priced telecommunications, electric and natural gas services from financially viable and technically competent companies. Additional information can be found on the Commission web site, www.psc.state.ga.us.
For more information:
Organization:
Georgia Public Service Commission

Address:
244 Washington St SW
Atlanta, Georgia
United States, 30334-9007
www.psc.state.ga.us
Tel: 404-656-4501

Contact:
Bill Edge, Public Information Officer
Georgia Public Service Commission
Tel: 404-656-2316
Toll-free: 800-282-5813
E-mail: bille@psc.state.ga.us