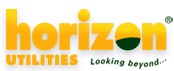 Horizon Utilities levels playing field with innovative Smart Growth infill program Incentives geared to save St. Catharines businesses money
---
April 9, 2014
Horizon Utilities Corporation officially launched its innovative Smart Growth-inspired customer connection policy in St. Catharines today (April 8th).

Developed in support of local economic development, Horizon's new connection program and infill development database provide incentives for companies that choose existing, repurposed, commercial and industrial buildings over greenfield development.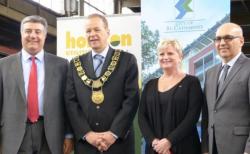 Infill development program a game changer (left-right):
Horizon Utilities President and CEO Max Cananzi, St. Catharines Mayor Brian McMullan, W.S.Tyler President Karen Thompson and Horizon Utilities Vice President, Business Development Neil Freeman launched the new infill development program at W.S. Tyler on Ontario Street.
Horizon's new program reduces connection charges and start-up costs for companies that choose infill properties over greenfield developments in St. Catharines. Companies locating where Horizon's electrical equipment and capacity are already in place will no longer be required to pay a system charge, as is currently the case with other utilities.

Tying customer connection fees to a Smart Growth-inspired development strategy means businesses pay only the direct costs associated with their move to an infill property.
'This innovative policy - the first of its kind in Canada - is an example of Horizon Utilities' commitment to sustainable development for the benefit of our community,' said St. Catharines Mayor Brian McMullan. 'With the launch of this policy, Horizon is seeking to promote urban intensification and enhance the economic viability of St. Catharines by helping business owners realize significant cost savings when choosing a location for their company.'

Horizon has also created an infill database for vacant buildings and properties to help companies identify locations with low start-up costs. It includes the critical cost elements of its utility assets at the street, valuable customer electric assets left behind in the plant and transmission station capacities serving the area. Horizon is also able to bring its Ontario Power Authority conservation incentives to help assist with retrofit costs.

'Our corporate philosophy has placed sustainable development at the center of all that we do. Horizon Utilities continuously strives to find opportunities, such as our Smart Growth connection program, to contribute to the communities we serve,' said Max Cananzi, President and CEO, Horizon Utilities. 'We are not aware of any other municipality in Ontario that is offering this kind of program to their municipalities in support of economic development and community sustainability,'

For more details, see the presentation about Horizon Utilities' new Smart Growth-inspired infill development program.

About Horizon Utilities Corporation

Horizon Utilities Corporation is proud to be Canada's first "Sustainable Electricity CompanyTM" - a designation of the Canadian Electricity Association. The company, which provides electricity and related utility services to 239,000 customers in Hamilton and St. Catharines, is one of the largest municipally owned electricity distribution companies in Ontario. In addition to triple bottom line reporting on its own operations, Horizon Utilities leverages its assets and resources to contribute to the sustainability of its communities. This includes conservation implementation through energy mapping and a customer connection policy that follows smart growth principles. The company has been named a Top 10 Employer in Hamilton-Niagara three years running.
For more information: