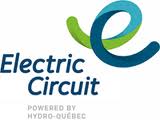 The city of Sorel-Tracy joins the vast public charging network
---
April 10, 2014
The founding partners of the Electric Circuit - Les Rôtisseries St-Hubert, RONA, METRO, the Agence métropolitaine de transport (AMT) and Hydro-Québec - are pleased to announce the signing of a partnership agreement with the city of Sorel-Tracy for the deployment of two public charging stations to be installed soon at the Colisée Cardin at 3025, Boulevard de Tracy.
"This new initiative is just one of the many actions taken as part of our Agenda 21, which aims to reduce greenhouse gas emissions," said Mayor Serge Péloquin. "With six major roads leading to it, Sorel-Tracy is a hub for automobile traffic. The strategic location of the Colisée Cardin made it the perfect choice for the first charging station. A second will be installed at 3025, Boulevard de Tracy as part of the work to take place there."
"We are very pleased to welcome Sorel-Tracy, the first city in the MRC Pierre-De Saurel, to the Electric Circuit," said Pierre-Luc Desgagné, Vice President – Public and Government Affairs at Hydro-Québec, on behalf of the founding partners of the Electric Circuit. "This new partnership will help the Electric Circuit improve its offering in Montérégie along Route 132."
For more information: