Con Edison Solutions and The Port Authority Mark "Earth Week" by Unveiling Rooftop Solar Initiative at Four Newark Liberty International Airport Buildings
---
April 24, 2014
In recognition of Earth Week 2014, ConEdison Solutions and the Port Authority of New York & New Jersey joined on April 24 to unveil one of four new solar installations that will reduce emissions and produce clean energy at Newark Liberty International Airport.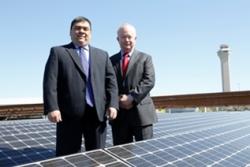 Jim Heitmann, acting general manager of Newark Liberty International Airport and Michael Gibson, vice president for Energy Services at ConEdison Solutions, atop one of Liberty International Airport's four solar rooftops
 
At an overall size of 633 kilowatts, the multi-site solar initiative represents the first solar power installations at any airport buildings operated by The Port Authority throughout the region.

The 3,200-solar panel installation covers 62,000-square-feet of rooftop space and will supply the airport with approximately 817,000 kilowatt-hours of electricity annually, equivalent to powering 61 homes with electricity or removing 90 vehicles from the road annually. This amount of power is also equal to conserving 53,000 gallons of gasoline or 992 barrels of oil, or saving 3.5 acres of trees from deforestation.

By utilizing solar power as an energy source, Newark Liberty International Airport anticipates an electricity savings of approximately $60,000 per year.

"The Port Authority is committed to implementing environmental programs we view as vital to our airports and other facilities," said Port Authority Director of Environment & Energy Programs Christopher Zeppie. "Solar panels atop the roofs of buildings at Newark Liberty are an innovative way to make use of little used space to help reduce the agency's carbon footprint while also saving money and increasing resiliency."

"Earth Week is the ideal occasion to recognize Newark Liberty International Airport for its outstanding commitment to sustainability," said Michael W. Gibson, Vice President of ConEdison Solutions. "The Port Authority of New York & New Jersey is setting an excellent example for airports nationwide and around the world."

Officials visited a 152-solar panel installation on the roof of Building 121, an AirTrain Newark electrical substation. The other three solar sites include a 312-panel project on an AirTrain Newark maintenance building (Building 60), a 585-panel installation on a Port Authority maintenance building (Building 79), and a 2,145-panel site on a multi-tenant cargo building (Building 157).

To educate travelers and other guests about the benefits of the multi-site solar initiative, the airport will soon introduce colorful, interactive informational kiosks at Terminal B that will provide information about solar power and this initiative at Newark Liberty. Kiosks also will update visitors on the amount of power that has been generated during a particular day and during the current month and year.

Based in Valhalla, New York, ConEdison Solutions is one of America's largest energy services companies and a significant developer of solar installations. Through a power purchase agreement with ConEdison Solutions, the Port Authority is purchasing 100-percent of the electrical energy produced by the solar installations. The system was designed and installed by Borrego Solar.

The Port Authority is committed to making its airports environmentally responsible with initiatives that affect facility operations, the aviation industry and customers. The airports follow an agency-wide sustainability policy that focuses on reducing emissions from facilities, while encouraging customers, tenants, and partners to conduct their businesses in a sustainable fashion, and developing strategies that reduce risks posed by climate change to facilities and regional infrastructure.

About the Port Authority

Founded in 1921, the Port Authority of New York and New Jersey builds, operates, and maintains many of the most important transportation and trade infrastructure assets in the country. The agency's network of aviation, ground, rail, and seaport facilities is among the busiest in the country, supports more than 550,000 regional jobs, and generates more than $23 billion in annual wages and $80 billion in annual economic activity. The Port Authority also owns and manages the 16-acre World Trade Center site, where construction crews are building the iconic One World Trade Center, which is now the tallest skyscraper in the Western Hemisphere. The Port Authority receives no tax revenue from either the State of New York or New Jersey or from the City of New York. The agency raises the necessary funds for the improvement, construction or acquisition of its facilities primarily on its own credit. For more information, please visit www.panynj.gov.
www.panynj.gov/about/environmental-initiatives.html

About ConEdison Solutions

ConEdison Solutions is a leading energy services company that provides competitive power supply, renewable energy, sustainability services, cost-effective energy efficiency solutions, and performance contracting services for commercial, industrial, residential and government customers, including universities, public school districts, and hospitals nationwide. Offering innovative products, financial stability, and a commitment to customer service, the company is based in Valhalla, New York, with offices in Burlington, Massachusetts; Cherry Hill, New Jersey; Chicago, Illinois; Falls Church, Virginia; Houston, Texas; Tampa, Florida; and Overland Park, Kansas. The firm's dedicated team of energy professionals delivers a broad range of energy solutions. ConEdison Solutions offers programs and services designed to help customers achieve their individual energy objectives and is accredited as an Energy Services Provider (ESP) by the National Association of Energy Service Companies (NAESCO).

ConEdison Solutions is a subsidiary and registered trademark of Consolidated Edison, Inc. (NYSE: ED). More information can be obtained by calling 1-888-210-8899 or visiting the ConEdison Solutions website at www.conedsolutions.com. You can also visit the Consolidated Edison, Inc. website at http://investor.conedison.com for information on all of the Consolidated Edison companies.
For more information: