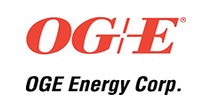 OGE Energy Corp. reports first quarter results Impact of Enable Midstream partnership drives higher earnings
---
May 1, 2014
OGE Energy Corp. (NYSE: OGE), the parent company of Oklahoma Gas and Electric Company ("OG&E"), and holder of 26.7 percent limited partner interest and 50 percent general partner interest in Enable Midstream Partners, LP,  reported earnings of $0.25 per diluted share for the three months ended March 31, 2014 compared to $0.12 per diluted share for the first quarter of 2013. The presentation of the results and 2014 earnings guidance reflect the two-for-one stock split, which became effective July 1, 2013.
OG&E, a regulated electric utility, contributed earnings of $0.10 per share in the first quarter, compared with earnings of $0.07 per share in the first quarter last year. OGE Energy's interest in the natural gas midstream operations contributed earnings of $0.15 per share compared with earnings from Enogex of $0.06 per share in the year-ago quarter. The holding company posted breakeven results in the first quarter of 2014 compared to a loss of $0.01 per share for the same period in 2013.
"The successful initial public offering of Enable Midstream was a milestone for OGE Energy, the culmination of many years of effort to transform Enogex into a major midstream player," said OGE Energy Corp. Chairman, President and CEO Pete Delaney. "OG&E continues to execute on its transmission build out and prepares to implement its generation plan in expectation of a regional haze ruling."
Click here to read the full press release.
For more information:
Organization:
OGE Energy Corp.
www.oge.com

Contact:
Kathleen O'Shea
Tel: (405) 553-3395

Contact:
Todd Tidwell
Financial Contact
Tel: (405) 553-3966