Designed for mounting on steel-reinforced, concrete poles, Trayer Engineering's ALTA Series of storm-hardened overhead vacuum switches for medium-voltage distribution systems are engineered to withstand hurricane strength winds, heavy rain, dust and debris.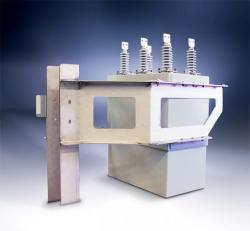 The ALTA System is made up of two pole-mounted units: a liquid-insulated, motor-operated vacuum switch and control cabinet designed to meet IP68 standards. The vacuum switch unit is equipped with field-replaceable porcelain bushings with provision for lightning arrestors and visual indication of switch position. The linear actuator can be decoupled from the switch handle to allow for manual operation. The heated control cabinet is designed to remain operational under storm flood conditions. The unit features pendant control access for field operation, battery backup and easy access to SEL relay control panel and SCADA hardware.
ALTA Series units are offered with 5kV, 15kV and 25kV ratings. All feature Trayer's signature welded 304 grade stainless steel, storm-hardened construction and SEL grid protection relay controls.