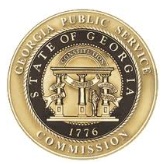 Georgia Public Service Commission Applauds U.S. Decision to Suspend Nuclear Waste Fee
---
May 20, 2014
The Georgia Public Service Commission (Commission) is applauding the U.S. Energy Department announcement that it will zero out the fees it has collected under the Nuclear Waste Policy Act of 1982 to fund a non-existent Nuclear Waste Repository, thereby saving Georgia consumers approximately $31 million a year. The Department is complying with a November 19, 2013 federal court order to stop collecting this fee which was assessed on nuclear power companies and then passed onto consumers. Since 1982, Georgia electric consumers have paid an estimated $1.2 billion in fees and interest into the fund.

'The Georgia Public Service Commission has been very active in this battle and is pleased that Georgia consumers will no longer be paying into the Nuclear Waste Fund. It is our hope that the federal government will begin to fulfill its promise from 1982 to build and operate a nuclear waste repository,' said Commission Chairman Chuck Eaton.

Twice, this year and 2009, the Commission has unanimously passed resolutions calling on the federal government to either suspend the collection of the fee or build the promised nuclear waste repository, which the law required the federal government to have operational by 1998.

In addition, the Commission, working through its national organization, the National Association of Regulatory Utility Commissioners (NARUC), has supported litigation to stop the Energy Department from collecting the fee. The fees which are deposited into the U.S. Treasury collect about $750 million a year. Currently the Nuclear Waste Fund's balance is about $30 billion.

'It's a start. Unfortunately we are still nowhere close to having this long promised repository but it's a start. The people of Georgia have paid over $1 billion in the fund but Congress and the Energy Department have not lived up to their promises,' said Commissioner Lauren 'Bubba' McDonald who is also vice-chair of the NARUC Subcommittee on Nuclear Waste Disposal.

"It is only right to stop charging our citizens a nuclear waste fee if the federal government isn't going to collect the waste as they promised," said Commissioner Echols. "I appreciate Commissioner McDonald's relentless effort to end this fee."

'I join with my colleagues in applauding this event. I too hope the federal government will fulfill its long standing promise to dispose of nuclear waste,' said Commission Vice-chair Doug Everett.

The Georgia Public Service Commission is a constitutional agency that exercises its authority and influence to ensure that consumers receive safe, reliable, and reasonably priced telecommunications, electric and natural gas services from financially viable and technically competent companies.
For more information:
Organization:
Georgia Public Service Commission

Address:
244 Washington St SW
Atlanta, Georgia
United States, 30334-9007
www.psc.state.ga.us
Tel: 404-656-4501

Contact:
Bill Edge, Public Information Officer
Georgia Public Service Commission
Tel: 404-656-2316
Toll-free: 800-282-5813
E-mail: bille@psc.state.ga.us