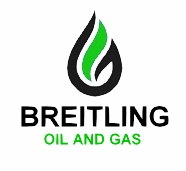 Breitling Announces New Managing Director
---
June 16, 2014
Breitling Energy Corporation (OTC:BECC) ('Breitling') announced that, as of June 1, 2014, David Kovacs will act as Managing Director of Strategic Development. Mr. Kovacs will help executive management with strategic alliances.
He is also currently the head of Investment Banking, Private Equity and Research for the Americas for Fitch Learning (Fitch Ratings). Prior to Fitch, Mr. Kovacs was a Managing Director at The Hinduja Group, one of the largest diversified finance groups in the world with over $50 billion under management, where he spearheaded the group's private equity investments and strategic relationships. He has held various Investment Banking and Private Equity roles at Blackstone Group and Citigroup.
Mr. Kovacs has and continues to lecture at many of the leading investment banks, private equity firms, sovereign wealth funds and government agencies, including the Securities & Exchange Commission, New York City Controller Office, Abu Dhabi Investment Authority, JP Morgan Chase, Barclays, Citigroup, RBC, RBS, Lazard, Morgan Stanley and Deutsche Bank. Mr. Kovacs earned a bachelor's degree with a double major in Economics and Finance, and a minor in Accounting and Political Science, where he completed all University course requirements in two years. He attended Columbia University and the City University of New York.
'I am very pleased and honored to be joining Breitling Energy,' said Mr. Kovacs. 'I look forward to working with Breitling team members worldwide to build upon the Company's excellent reputation, and to help fuel growth and long-term performance through innovation and relentless focus. It's an exciting time to be joining Breitling.' Chris Faulkner, Breitling's Chief Executive Officer, President and Chairman, stated: 'We are pleased to add David Kovacs to the Breitling team and look to his experience for continued superior results for Breitling.'
About Breitling Energy Corporation
Breitling Energy Corporation is a growing energy company based in Dallas, Texas engaged in the acquisition of lower risk onshore oil and gas properties and the exploration and development of such properties. We intend to utilize a combination of acquisitions and growth through the drill-bit to increase reserve and production value. Our oil and gas operations are focused primarily in the Permian Basin of Texas and the Mississippi oil window of southern Kansas. We also have various properties in Texas, North Dakota, Oklahoma and Mississippi.
For more information: