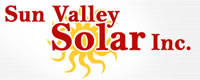 Sunvalley Solar Awarded 676.5 KW New Solar Installation Contract
---
June 17, 2014
Sunvalley Solar, Inc. (SSOL), a leading turnkey solar energy solution provider in the commercial and agricultural industries, announced that it has been awarded a new 676.5 KW solar system installation contract for Raven Farms in Selma, CA.
"We understand growers have high and variable energy needs. Unexpected increases in electricity prices have a costly impact on their bottom line. With California's drought, most farmers may have to turn to wells to pump water. This, in turn, will increase their demand for electricity and thereby increase the overall cost of doing business. In addition, the new NEMA (Net Energy Metering Aggregated) program, skyrocketing electric bills and low interest rates have created an opportune environment for adopting solar power solutions. Raven Farms, by switching to solar power has effectively removed the variability of cost of goods due to fluctuating energy costs and demands. With NEMA, we are able to build a single central solar power system to offset multiple meters," said Mehmet Cercioglu, Director of Business Development of Sunvalley Solar.
Once completed, the system will generate more than 1.1 million kWh of clean energy to offset 75% of the facility's electric bill. The system is expected to pay for itself in roughly 4 years and reduce the plant's carbon footprint by over 1.6 million pounds of CO2 per year.
Raven Farms is but one of the many growers, packers, dairies and cold storage facilities throughout the state that Sunvalley Solar has helped since 2007.
About Sunvalley Solar, Inc.
Sunvalley Solar, Inc. is a leading solar system solution provider that offers comprehensive solar energy technology, system design, installation, equipments, and technical support for electrical contractors, builders, homeowners, businesses/commercial buildings, and government entities that assist them in lowering of utility bills, reducing environmental impacts, and increasing energy reliability and independence through solar energy. Located in Los Angeles, California, Sunvalley Solar, Inc. is committed to reducing the world's carbon foot print from traditional energy sources to make renewable sources such as solar the nation's mainstream source of power.
To learn more, visit www.sunvalleysolarinc.com.
Forward-Looking Statement

The statements in the press release that relate to the Company's expectations with regard to the future impact on the Company's results from acquisitions or actions in development are forward-looking statements within the meaning of the Private Securities Litigation Reform Act of 1995. The statements in this document may also contain "forward-looking statements" within the meaning of Section 27A of the Securities Act of 1933 and Section 21E of the Securities Exchange Act of 1934. When used in this press release, the words "anticipate," "believe," "estimate," "may," "intend," "expect" and similar expressions identify such forward-looking statements. Forward-looking statements are subject to risks, uncertainties, and other factors that could cause actual results to differ materially from those contained in such statements. Such risks, uncertainties, and factors include, but are not limited to, future capital needs, changes, and delays in product development plans and schedules, or market acceptance.
For more information: