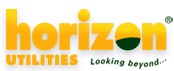 Horizon Holdings Inc. releases 2013 Sustainability-based Annual Report
---
July 3, 2014
Horizon Holdings Inc. announced that its 2013 Sustainability-based Annual Report and 2013 Global Reporting InitiativeTM (GRI) Filing are now available on all of the company's websites, including here.

The company is driving an agenda focused on evolving a suite of smart grid programs that contribute to municipal smart growth objectives. Smart grid and smart growth are critical to the resilience and sustainability of communities. Horizon is committed to playing their part in the development of the smart communities of the future.

'Our goal is the sustainability of our company and our communities,' says Horizon Board Chair, Robert Cary. 'We are helping our communities make the most of their infrastructure and resources by providing them with leading edge system tools and network infrastructure. This ensures that Horizon continues to deliver an essential service safely, reliably and affordably - giving our customers, communities and shareholders real value, well into the future.'

Click here to read the full press release.
For more information:
Organization:
Horizon Utilities Corporation

Address:
55 John St N
Hamilton, Ontario
Canada, L8N 3E4
www.horizonutilities.com
Tel: 905-522-9200