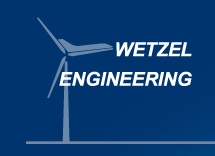 Wind Energy Veteran Gary Kanaby Joins Wetzel Engineering as Director of Sales and Marketing
---
Aug 20, 2014
Wetzel Engineering Inc. (WEI), a specialized systems engineering company serving the international wind energy industry, announced that industry veteran Gary Kanaby has joined the company as director of marketing and sales. Gary will be responsible for business capture activities including growing marketshare among wind farm owners and operators.
For the last decade Kanaby has been involved in the wind blade manufacturing and service business. Most recently he served as director of sales for wind energy at Molded Fiber Glass Companies (MFG Wind and MFG Energy Services), growing their service business more than 300%. Prior to that he helped Knight & Carver grow a startup wind blade division to $18M in annual sales over a 3-year period.
Gary is an active member of AWEA and currently serves on the Operations & Maintenance, Research & Development, and Public Affairs committees. He is a frequent speaker and moderator at wind events and authored many published whitepapers on the topic of wind turbine blades.
Beyond wind energy systems, Gary's involvement with composites engineering and manufacturing spans more than 40 years, including management roles with automotive, marine craft and civil construction companies.
"We are delighted to have Gary Kanaby join the Wetzel team," reports Kyle Wetzel, CTO of WEI. "His deep experience and base of relationships with wind blade operators and manufacturers will energize our growth initiatives and enhance our market position."
Gary is a graduate of Wayne State University with a Bachelor's degree in English and Social Science Education. He can be contacted at gary.kanaby@wetzelengineering.com or (619) 778-7213.
About Wetzel Engineering Inc.
Wetzel Engineering provides specialized engineering services to private, public, academic and government entities in the wind energy sector. We offer a range of services for OEMs and system operators including new product design, system optimization and ROI analysis, research and development and expert engineering counsel. WEI also offers a portfolio of turbine blade designs in a range of sizes for sale or license.
The company is based in Pflugerville, TX and is privately held. More information can be found at www.wetzelengineering.com.
For more information: