Township of Georgian Bluffs and Township of Chatsworth Receive Innovation Award for its partnership to develop Biodigester facility
---
Aug 21, 2014
The Honourable Ted McMeekin, Minister of Municipal Affairs and Housing, and Pat Vanini, Executive Director of the Association of Municipalities of Ontario (AMO), presented a P.J. Marshall Plaque Award to the Township of Georgian Bluffs and the Township of Chatsworth for its partnership to develop a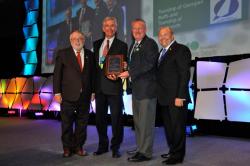 Biodigester facility.
The Award was presented August 18, on the main stage of the 2014 AMO Conference in London. A Plaque Award recognizes projects that exemplify all of the P.J. Marshall Award's criteria: innovation, tangible benefits, improved efficiency, innovative financing and transferability.
"The Biodigester facility is a joint project with the Township of Chatsworth and it benefits both communities," said Alan Barfoot, Mayor of the Township of Georgian Bluffs. "The Biodigester is a cooperative solution to our need for sewage and the problem of shrinking landfill space. We are proud to receive this award."
The new Biodigester facility has the capacity to treat up to 40 cubic metres of septage and organic waste per day, in addition to generating up to 2400 Kw hrs of electricity. As a result of the new facility, the communities have seen reduced sewage spread on farmlands, a reduction in greenhouse gas emissions and odours, and the production of clean, renewable energy.
The Township of Georgian Bluffs and the Township of Chatsworth worked together to find one solution to two separate problems," said Pat Vanini, AMO's Executive Director. "The Biodigester benefits both communities and is a great example for other Ontario municipalities."
The P.J. Marshall Award is an annual competitive process organized by AMO that involves the Ministry of Municipal Affairs and Housing and the Centre for Public Private Partnerships. Awards acknowledge municipalities who have demonstrated leadership and innovation and in public-private partnerships. Submissions by Ontario municipalities are judged by a panel on their creativity and success in implementing new, innovative ways of serving the public.
This year, one Certificate of Merit was awarded alongside three Plaque Awards. The Town of Deseronto received a Certificate of Merit for its transit system. The Town of Goderich received a Plaque Award for its Harbour Revitalization project. A Plaque Award was also presented to the County of Simcoe for its Georgian Bluffs Redevelopment project.
For more information:
Organization:
Association of Municipalities of Ontario

Address:
200 University Ave., Suite 801
Toronto, Ontario
Canada, M5H 3C6
www.amo.on.ca