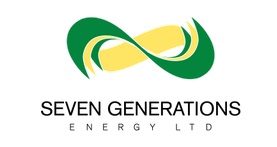 Seven Generations


Seven Generations Boosts 2016 Production 95 Percent to 117,800 boe/d, Generates Record Funds From Operations of $733 Million
---
March 9, 2017
Seven Generations Energy Ltd. (TSX:VII) nearly doubled production in 2016 to 117,800 barrels of oil equivalent per day (boe/d), up 65 percent from 2015 on a per share basis. Funds from operations increased 77 percent to $733 million, or $2.30 per share - up 50 percent per share compared to 2015. Capital investment in 2016 was $978 million, 25 percent lower than in 2015. Fourth quarter production increased 70 percent compared to a year earlier to average 132,300 boe/d, and funds from operations were $220 million, up 107 percent compared to the fourth quarter of 2015.
"In 2016, we delivered another year of high-growth, low-cost value creation that saw our production and proved reserves each increase by about 95 percent. We continued our high rate of organic production growth and in August we completed a major acquisition of neighbouring resources and market access arrangements that expanded our most prolific Nest assets. Our focus on innovation and operational optimization is boosting production rates, increasing reserves and reducing costs throughout our Kakwa River Project," said Marty Proctor, 7G's President and Chief Operating Officer.
Proved plus probable and contingent best estimate resources each up about 80 percent
During 2016, Seven Generations tied in 60 new producing wells, adding to the conversion of contingent resources into reserves and production. Despite annual production of 43 million barrels of oil equivalent (MMboe), 7G increased proved reserves 95 percent to 825 MMboe, as estimated by McDaniel & Associates Consultants Ltd. (McDaniel) at December 31, 2016. Proved plus probable reserves increased 79 percent to 1.53 billion boe, with liquids making up 53 percent of the total recoverable reserves. Risked contingent best estimate resources were 1.39 billion boe at December 31, 2016, up 80 percent compared to 771 million boe at December 31, 2015.
"These are very strong reserve additions in one of the lowest supply-cost natural gas and liquids projects in North America. We are drilling long wells with larger and more intense hydraulic fractures - innovations that have shown a one-third increase in condensate production per well compared to two years ago. By boosting production of our most valuable product - condensate - during the early life of our wells, we pay for our wells faster, accelerate the time it takes to earn full-cycle returns and increase the value of our project," said Glen Nevokshonoff, 7G's Senior Vice President, Operations.
Strong initial production from wells on major acquisition lands
7G intends to allocate about 40 percent of its 2017 drilling and capital investment to the neighbouring lands it acquired in the summer of 2016, where initial well results are exceeding expectations. 7G recently tied in a six-well pad where wells had an average 30-day, initial production rate of 2,000 boe/d, with condensate yields of about 170 barrels per MMcf. 7G is installing its Super Pad and gas lift infrastructure selectively onto the acquired lands to enable wide scale development.
"These well production rates have exceeded our initial expectations. This confirms our belief that our major acquisition extends our inventory of low-supply cost resource," Nevokshonoff said.
Acquired asset proved plus probable reserves up 36 percent
McDaniel has attributed proved plus probable reserves of 400 MMboe, effective as at December 31, 2016, to the properties 7G acquired in 2016. This represents a 36 percent increase over the 292 MMboe of proved plus probable reserves that were attributable to the assets as at December 31, 2015.
"This significant boost in the proved plus probable reserves verifies the rationale for acquiring these neighbouring lands and affirms the value creation of this transaction," Nevokshonoff said.
Challenging October, lower fourth quarter production and 2016 capital investment
While daily production nearly doubled in 2016, the fourth quarter presented operational challenges that resulted in 2016 production averaging 1.8 percent below the guidance range of 120,000 to 125,000 boe/d. A portion of these challenges stemmed from delays in drilling and completions, resulting in 2016 capital investment of $978 million, which was about 7 percent below the guidance range of $1.05 billion to $1.1 billion. The main contributing factor to the lower production was an outage on the Alliance Pipeline and a maintenance period at the Pembina Cutbank complex, which led to the company having no production for about one-third of October 2016. This outage reduced October production volumes by approximately 50,000 boe/d, fourth quarter volumes by approximately 16,500 boe/d and 2016 annual volumes by approximately 4,200 boe/d. Another contributing factor to lower fourth quarter production was a slower than anticipated ramp up in production volumes following the pipeline outage due to a high percentage of slickwater completions in 2016 and a required adjustment to artificial lift systems. These were all temporary operational matters that were alleviated by the end of the quarter. The resulting lower capital investment yielded a higher than forecast capital efficiency and a higher closing adjusted working capital balance, providing greater cash on hand to fund a portion of the 2017 capital program.
Financial position remains strong
Seven Generations had $586 million of adjusted working capital and $631 million of cash and cash equivalents at December 31, 2016. When 7G's $1.1 billion revolving credit facility is combined with adjusted working capital, 7G has in excess of $1.6 billion of available funding.
"We continue to maintain a very strong balance sheet. With our expected growth in production in 2017, we plan to fund this year's capital investment of $1.5 billion to $1.6 billion with cash on hand, cash flow and, if required, draws on our credit facility," said Chris Law, 7G's Chief Financial Officer.
Marketing initiatives continue to advance on several fronts
Seven Generations continues to pursue a variety of market initiatives aimed at establishing new customers for the company's growing production, over the medium and longer term. 7G is targeting buyers of natural gas for North America's emerging liquefied natural gas (LNG) export industry, the replacement of coal with natural gas in Alberta's electrical generation sector and builders and operators of petrochemical plants that require methane, ethane, propane and butane. 7G is also advancing discussions with overseas customers seeking long-term, low-cost supplies of LNG and liquefied propane.
By taking a portfolio approach to its natural gas marketing, 7G sells about two-thirds of its natural gas in the US Midwest, with the remainder split primarily between AECO in Alberta and the US Gulf Coast. 7G's US Gulf Coast sales are via the company's pipeline capacity on Kinder Morgan's NGPL pipeline system, which runs from 7G's Alliance Chicago delivery point to the Henry Hub delivery point in Louisiana.

Click here to read the full press release.
For more information: