European Network of Transmission System Operators for Electricity


ENTSO-E sees performance rating increase and gears up to new value proposition by end 2017
---
March 9, 2017
According to the review of 2016, ENTSO-E has seen the satisfaction with its work increase: the Advisory Council, a more visionary approach but also efforts to communicate with a wider audience, including NGOs, and to follow up on feedback received have been mentioned in results and led to a four percent increase in the rating, compared to the previous year.

"Stakeholder satisfaction is key for us and our surveys show steady progress in the last couple of years. We must be doing something right!" comments Laurent Schmitt, ENTSO-E's new Secretary General. "Our members have also given us higher scores in 2016. This shows that they are not opposing an ambitious European agenda but that we are sharing a common objective!", points out Laurent Schmitt.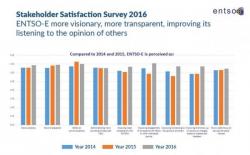 Stakeholders and members alike are asking ENTSO-E to develop its digital dimension. A plan to upgrade ENTSO-E's Transparency Platform should start delivering in 2017. The public portal on the European power system will be even more user-friendly and data quality will improve. The association plans to announce its value proposition in terms of digital services towards its members and stakeholders in the second half of 2017.

Click here to read the full press release.
For more information:
Organization:
European Network of Transmission System Operators for Electricity (ENTSO-E)

Address:
Avenue de Cortenbergh 100
Brussels, 1000
Belgium
www.entsoe.eu