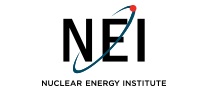 Nuclear Energy Institute


New York's Support for Nuclear Preserves Clean Air, Quality Jobs
---
March 13, 2017
Nuclear energy is essential for New York to meet its environmental goals, NEI President and Chief Executive Officer Maria Korsnick told the New York State Assembly this week (3/6).
Korsnick added that Gov. Andrew Cuomo's groundbreaking Clean Energy Standard (CES) will enable the continued operation of New York's upstate nuclear power plants R.E. Ginna, James A. FitzPatrick and Nine Mile Point preserving thousands of high-paying jobs and billions in economic activity.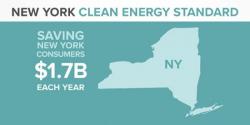 The New York Public Service Commission last year approved the CES, which will enable the state to meet ambitious environmental goals in its energy plan, including a 40 percent reduction in greenhouse gas emissions from 1990 levels by 2030. The precedent setting initiative embraces all clean energy sources renewable and nuclear to meet these ambitious goals.
"The Clean Energy Standard promotes renewable use in the state along with the preservation of nuclear energy. Nuclear is a vital component of this plan, as it provides the majority of New York's non-emitting generation," Korsnick stated.
"New York's nuclear plants produce ten times the state's wind electricity and as much as all of the solar electricity produced by the industry across the entire nation. Including nuclear plants in the Clean Energy Standard enables New York to quickly and cost-effectively reach its environmental goals."
New York's six nuclear reactors generated 42 million megawatt-hours of electricity in 2016, which was 31 percent of the state's overall output. Nuclear energy provided 58 percent of the state's carbon-free electricity, compared to 37 percent from hydroelectricity and just over 5 percent from wind and solar.
Gov. Cuomo called for the CES on the grounds that closure of nuclear energy facilities "would eviscerate the emission reductions achieved through the state's renewable energy programs, diminish fuel diversity, increase price volatility, and financially harm host communities."
In her testimony before four standing committees of the New York State Assembly on March 8, Korsnick echoed the governor's sentiment.
"The Clean Energy Standard promotes renewable use in the state along with the preservation of nuclear energy. When nuclear plants close, costs and emissions increase."
Acknowledging the threat of premature closure that some nuclear plants face, Korsnick identified the zero-emission credit provision in the New York CES as a "template for other states to value the non-emitting attribute of nuclear plants that was being ignored" in electricity markets. New York's landmark policy choice has been highlighted for other state lawmakers by the National Conference of State Legislatures, she noted.
About 80 miles east of Albany, the Vermont Yankee Nuclear Power Station closed at the end of 2014. The electricity it generated was completely replaced by natural gas, resulting in carbon emissions across New England increasing by 5 percent in the year following the plant's loss.
"When [nuclear] plants close the pattern is clear," Korsnick told the lawmakers. "Carbon emissions increase and so do electricity prices."
"We saw a similar story in California where the closure of the San Onofre Nuclear Generating Station resulted in higher electricity bills and increased emissions," Korsnick added. "New York's approach provides a better path forward. It allows the state to build upon what it has rather than replace what it stands to lose."
New York's upstate reactors support nearly 25,000 jobs, are responsible for $144 million in net state tax revenues, and contribute $5.25 billion in gross output. The Brattle Group estimates that New Yorkers would pay $1.7 billion more for their electricity if the state's nuclear plants were to close. And without the state's reactors, electricity costs to consumers, industry and businesses will increase by almost $15 billion over 10 years.
The upstate plants also help New York avoid almost 16 million tons of CO2 emissions annually the equivalent of taking 3 million cars off the road.
"New York is a leader in addressing environmental issues, and it has set ambitious goals to meet" its environmental targets, Korsnick said. "The state's nuclear plants are essential in achieving these goals."
For more information:
Organization:
Nuclear Energy Institute (NEI)

Address:
1776 I St NW
Washington, District of Columbia
United States, 20006-3708
www.nei.org
Tel: 202-739-8000