S&P Global Platts


Nuclear a key battleground ahead of French elections: S&P Global Platts Special Report
---
April 18, 2017
France is facing its most uncertain presidential elections in decades, with the country's nuclear energy future a key battleground at a crucial point in its evolution.

At stake is 2014's energy transition pathway, comprising ambitious goals for renewables and energy efficiency, and possibly a significant retreat for nuclear generation - from 75% of the energy to 50% by 2025, equivalent to cutting capacity by 25 GW, according to PIRA Energy, an analytics unit of S&P Global Platts.

The implication of these policies today could result in France switching from net energy exporter to importer by 2030 according to Platts Analytics' Eclipse Energy.

In a special report French Presidential Elections: Crunch time for the country's energy mix*, S&P Global Platts analyses the impact of the three main candidates' views on energy, and how those views could play out in policy terms.

Macron

A victory for current front-runner Emmanuel Macron looks certain to reduce the dominance of nuclear in France. That could reduce the country, traditionally Europe's largest electricity exporter, to a deficit market increasingly dependent on imports of electricity.

Add to this Macron's support for a carbon price floor, and natural gas emerges as a clear beneficiary of a victory for the ex-economy minister, with gas-fired generation emerging as the lead backup technology providing much-needed flexibility, further gaining from relegation of France's remaining coal-fired units as carbon costs increase.

"As Macron looks at implementing Hollande's energy transition path, Macron's election could prove structurally bullish for power prices," according to Bruno Brunetti, European Power director, PIRA.

France's existing renewables target translates to 20 GW of additions over the next eight years. That is too little to offset targeted nuclear closures, according to PIRA.

Platts Analytics' Eclipse Energy assumes a trajectory towards 70% nuclear as more realistic by 2025, only hitting the 50% target around 2030. Around this time Eclipse see a switch from net exporter to net importer. This is as much due to significant growth in renewables in France's neighboring markets as it is to do with France's nuclear retreat.

While Macron's views largely mirror those of President Francois Hollande's small-scale green revolution agenda, former Prime Minister Francois Fillon and far right candidate Marine Le Pen promote a return to glory for the French nuclear industry.

Fillon

Fillon would maintain nuclear's 75% generation mix dominance and fully supports EDF's reactor lifetime extension program.

Le Pen

Le Pen also supports EDF's investment program, and would seek to re-nationalize the generation behemoth. That implies a return to command-and-control industrial policymaking with implications for EDF's international activities.

Finally, while the President sets the agenda, National Assembly elections in June will decide how powerful the new President will be.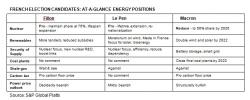 About S&P Global
Platts At S&P Global Platts, we provide the insights; you make better informed trading and business decisions with confidence. We're the leading independent provider of information and benchmark prices for the commodities and energy markets. Customers in over 150 countries look to our expertise in news, pricing and analytics to deliver greater transparency and efficiency to markets.

S&P Global Platts coverage includes oil and gas, power, petrochemicals, metals, agriculture and shipping. S&P Global Platts is a division of S&P Global (NYSE: SPGI), which provides essential intelligence for companies, governments and individuals to make decisions with confidence. For more information, visit www.platts.com.

Click here to read the full press release.
For more information: