Xcel Energy Inc.'s two nuclear power plants generate some $1 billion per year in economic benefits for Minnesota, a new economic analysis by the Nuclear Energy Institute reports.
Taking an extended look at "The Impact of Xcel Energy's Nuclear Fleet on the Minnesota Economy," the report reveals the range of economic benefits that Xcel's nuclear plants offer the state today and what it expects over the next 15 years.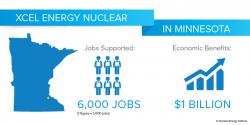 Xcel's nuclear facilities are a major source of jobs, directly employing approximately 1,700 workers in Minnesota. In addition, the plants indirectly support nearly 6,100 Minnesota jobs, the analysis found.
The nuclear facilities generate about 21 percent of Minnesota's electricity and 54 percent of the state's emission-free power. Without the plants, the state's carbon dioxide emissions would increase by 12 million tons per year, equivalent to clogging Minnesota's roads with an additional 2.6 million cars, the study estimates.
"Xcel Energy's nuclear plants provide much more than clean, reliable power for Minnesota's homes and businesses, they contribute $1 billion to the state's economy and support thousands of jobs," said John Kotek, NEI vice president of policy development and public affairs.
Xcel's two nuclear facilities include the Prairie Island Nuclear Generating Station in Red Wing and the Monticello Nuclear Generating Station, which together produce 1,770 megawatts of electricity.
As the largest property tax payer in Minnesota, Xcel's nuclear facilities contribute about $33 million in state and local taxes annually. NEI estimates the company pays approximately $113 million in federal taxes each year on the two nuclear plants.
"The study confirms that Xcel's nuclear facilities are critical parts of Minnesota's energy infrastructure and bastions of the state's economic well-being. In addition, Xcel Energy and its employees contribute to local communities in other ways, such as hiring veterans, charitable contributions and environmental stewardship programs," Kotek said.
The facilities generated nearly 13 billion kilowatt-hours of emission-free electricity in 2015, enough power for the yearly needs of 1.4 million homes about the same number as in the entire Minneapolis-St. Paul metro area.
"This study demonstrates the vital role that Xcel Energy's nuclear facilities play in supporting Minnesota's economy by generating massive amounts of carbon-free, reliable electricity for our customers. Our mission is to keep supporting the region's economic vitality for many years to come," said Tim O'Connor, senior vice president and chief nuclear officer at Xcel Energy.