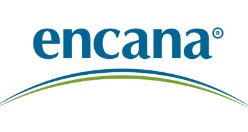 Encana


Encana reports on the election of directors voting results from the 2017 Annual Meeting of Shareholders
---
May 3, 2017
(TSX: ECA) (NYSE: ECA)
The following matter was voted upon at the Annual Meeting of Shareholders of Encana Corporation (the "Corporation") held on May 2, 2017 in Calgary, Alberta. Each of the matters is described in greater detail in the Notice of Annual Meeting of Shareholders and 2017 Proxy Statement dated March 23, 2017.
1. Election of Directors
By resolution passed via ballot, the following 10 nominees were appointed as Directors of the Corporation to serve until the close of the next annual meeting of shareholders of the Corporation, or until their successors are elected or appointed. The results of the ballot were as follows: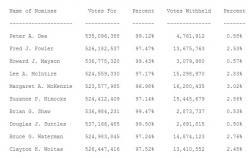 Encana Corporation Encana is a leading North American energy producer that is focused on developing its strong portfolio of resource plays, held directly and indirectly through its subsidiaries, producing natural gas, oil and natural gas liquids (NGLs). By partnering with employees, community organizations and other businesses, Encana contributes to the strength and sustainability of the communities where it operates. Encana common shares trade on the Toronto and New York stock exchanges under the symbol ECA.

Click here to read the full press release.
For more information:
Organization:
Encana

Address:
855 2nd St SW - Ste 1800
Calgary, Alberta
Canada, T2P 2S5
www.encana.com
Tel: 403-645-2000

Contact:
Brendan McCracken
Vice-President, Investor Relations
Tel: (403) 645-2978

Contact:
Simon Scott
Vice-President, Communications
Tel: (403) 645-2526