Scottish and Southern Electricity Networks


Toppling of towers brings new view to the Cairngorms
---
May 3, 2017
Picture Shows; Left to right, Paddy Dunlop, Demolition Team Leader, PLPC, Dave Gardner, Director of Transmission, SSEN, Bill Robertson, CKD Galbraith, representing the Cairngorms Landowners with the Danger Sign from the toppled 132,000 volt tower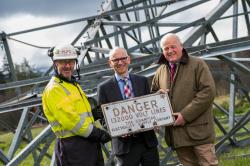 The final phase of transmission tower removal from the Cairngorms National Park is now under way, with work to dismantle the remaining section between Aviemore and Kingussie marked earlier today (4/28) with the symbolic toppling of a tower against the spectacular backdrop of the Cairngorms Mountain Range.  
The infrastructure is being removed as the final stage of the long-running Beauly-Denny project, which when planning approval was granted in 2010 included a number of commitments, including the removal of significant sections of electricity transmission lines from the Cairngorms National Park. 
The initial phase of 53km of overhead line was removed from the Cairngorms National Park, east of Boat of Garten and across the Lecht to Cairnmore in Aberdeenshire, during 2011 and 2012.  Work to remove the transmission towers between Boat of Garten and Kingussie began earlier this year, with the final section from Aviemore to Kingussie expected to be completed in July this year.   
New underground electricity distribution cables have been installed between Aviemore and Kingussie to enable the removal of this section of overhead line, replacing its role in powering local communities.
On completion of this final section, over 300 transmission towers will have been removed from the Cairngorms National Park as part of the Beauly-Denny project, covering a distance of over 90km, resulting in over 1500 tonnes of steel for recycling.
Former Chairman of SSE and current Chairman of the Green Investment Bank, Lord Smith of Kelvin; joined SSEN's Director of Transmission, David Gardner, key contractors, partners and members of the SSEN Beauly-Denny project team to mark the occasion. 
Lord Smith said:  
"When I look back at my time with SSE, in what is an ever changing energy sector, Beauly Denny was one of the few constants - not least because of the long-term nature of the project and the lengthy planning process it went through.
"Following its successful energisation back in November 2015, it is important to recognise the enormous contribution the line has made to Scotland's thriving renewable energy sector.  It was the first, vital piece of a jigsaw that is still coming together today, unlocking Scotland's vast renewable potential that has recently seen the installed capacity of renewables supported by the north of Scotland transmission network rise to over 4,500 megawatts of generation capacity.  
"That's a truly remarkable achievement which is contributing in no small part to national and local climate change and renewable energy targets, as well as helping to maintain security of electricity supply."
David Gardner added: 
"We are delighted to welcome colleagues past and present, as well as some of our key external partners, to celebrate the final phase of tower removal from the Cairngorms National Park.
"Whilst electricity transmission towers will continue to play a key role for many years to come in keeping the lights on and facilitating economic activity and growth, the Beauly-Denny project provided a unique opportunity to look again at the existing infrastructure within the Cairngorms National Park.  
"Through a number of planning conditions that were agreed during the planning process, we have been able to remove significant sections of existing transmission infrastructure from the Cairngorms National Park, delivering a lasting legacy for current and future generations."
About the author
Scottish and Southern Electricity Networks
We're responsible for maintaining the electricity networks supplying over 3.7 million homes and businesses across central southern England and north of the Central Belt of Scotland. We own one electricity transmission network and two electricity distribution networks, comprising 106,000 substations and 130,000 km of overhead lines and underground cables across one third of the UK. Our first priority is to provide a safe and reliable supply of electricity to the communities we serve in Scotland and England.
For more information: