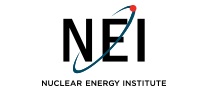 Nuclear Energy Institute


NEI Urges DOE, OMB to Address Nuclear Waste Fund Inequities
---
May 9, 2017
As congressional committees prepare to tackle both budget appropriations for fiscal 2018 and proposed legislation to restart the nation's stalled used fuel management program, the Nuclear Energy Institute is asking the Trump administration to consider key outstanding issues related to both topics.
In an April 21 letter to Secretary of Energy Rick Perry and Mick Mulvaney, director of the Office of Management and Budget (OMB), NEI President and Chief Executive Officer Maria Korsnick highlights certain aspects of the Nuclear Waste Fund that need to be addressed and corrected.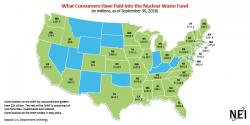 Korsnick points out that after the previous administration had halted the Yucca Mountain repository program, the U.S. Department of Energy continued to collect fees from electricity ratepayers into the Nuclear Waste Fund until a November 2013 court order that stopped payments in May 2014.
"However, the former administration continued to budget $350 million annually knowing that the receipts would not be collected," Korsnick said.
"The industry believes this inequity must be addressed and corrected. A clear reading of the court decision indicates that there is no basis to budget for collection of the annual fees if there are no funds currently appropriated to implement any program."
With the industry having paid more than $20 billion into the fund and with interest of about $1.5 billion accruing annually, the industry believes the fee should not be reinstated until program expenditures exceed annual investment income and DOE completes a new fee adequacy study that demonstrates the need for reinstatement, Korsnick said.
The U.S. Nuclear Regulatory Commission should be given sufficient funding to complete the Yucca Mountain license application as well as for the private interim storage facilities that have submitted license applications.
"Interim storage is necessary given the length of time a final repository will take to construct and it will allow decommissioned sites and states to re-purpose the land currently being used for on-site fuel storage," Korsnick added.
Finally, Korsnick appealed to Perry and Mulvaney to consider new approaches to restructure the mechanism for funding a revived waste management program so that greater certainty is available to implement the program.
Korsnick will testify at a May 3 hearing of the House Energy and Water Development Appropriations Subcommittee.

Click here to read the full press release.
For more information:
Organization:
Nuclear Energy Institute (NEI)

Address:
1776 I St NW
Washington, District of Columbia
United States, 20006-3708
www.nei.org
Tel: 202-739-8000