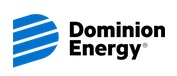 Dominion Energy


Shareholders Add 'Energy' to Dominion's Name
---
May 11, 2017
Dominion Resources, Inc., has become Dominion Energy, Inc. (NYSE: D), after a vote by shareholders today (5/10) to change the company's name.
"While our name may be changing, what is not changing is our commitment to safety, customer service and our communities," said Thomas F. Farrell, II, chairman, president and chief executive officer of Dominion Energy. "Our 16,200 employees remain dedicated to meeting the needs of our 6 million customers and others who depend on us. This new name is reflective of that dedication. Energy is at the core of our modern life."
The company's local electric and natural gas utilities and many other businesses will unify under the Dominion Energy name in the coming days. Changes to company bills, building signage, trucks, employee uniforms and other identifying marks will occur in the coming months.
Dominion Energy plans to request name changes to several customer-facing legal and "doing business as" entities. Selected changes, effective May 12 unless otherwise noted, include: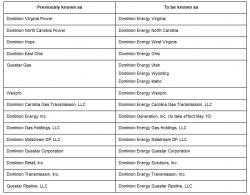 A new logo, last modified in 2000, also takes effect today. Designed by the global branding firm of Chermayeff & Geismar & Haviv, it retains the "D" shape while modernizing the look with stripes suggesting energy through the blue silhouette.
The names of Dominion Energy's three operating segments - through which the company manages its daily operations and that the company uses in its financial reporting to the U.S. Securities and Exchange Commission - will be revised. Power Delivery Group, Power Generation Group and Gas Infrastructure Group will replace Dominion Virginia Power, Dominion Generation and Dominion Energy, respectively.
The board of directors of Dominion Midstream GP, LLC, the general partner of Dominion Midstream Partners, LP (NYSE: DM), a publicly owned subsidiary of Dominion Energy, also intends to file an Amendment to the Certificate of Limited Partnership in Delaware that would allow the partnership to be known as Dominion Energy Midstream Partners, LP, retaining its "DM" ticker symbol on the New York Stock Exchange (NYSE).
Also, late evening tonight, the company plans to change its web address to www.DominionEnergy.com. Visitors who go to the current site, dom.com, will be redirected automatically to the new site.
Dominion Energy shares of common stock will continue to be traded on the NYSE under the ticker symbol "D."
Dominion Energy is one of the nation's largest producers and transporters of energy, with a portfolio of approximately 26,200 megawatts of generation, 15,000 miles of natural gas transmission, gathering and storage pipeline, and 6,600 miles of electric transmission lines. Dominion operates one of the nation's largest natural gas storage systems with 1 trillion cubic feet of storage capacity and serves more than 6 million utility and retail energy customers.
For more information:
Organization:
Dominion Energy

Address:
120 Tredegar St
Richmond, Virginia
United States, 23261-6532
www.DominionEnergy.com
Tel: 804-819-2000