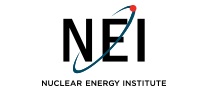 Nuclear Energy Institute


A New US-Mexico 123 Agreement Is Needed to Help Nuclear Exports
---
May 12, 2017
Suddenly, international trade with Mexico is a hot topic, but commercial nuclear trade between the United States and Mexico has been going on for decades. GE Hitachi Nuclear Energy continues to fuel and service the two reactors that General Electric Co. built and commissioned at Laguna Verde in the 1990s.
"We've had a great relationship with Mexico and the national electric company, Comisión Federal de Electricidad (CFE), for well over 30 years," says David Sledzik, GE Hitachi Nuclear Energy senior vice president of sales and commercial operations.
"They have great engineers and operators down there. They're always eager to learn more about nuclear. They've got great university infrastructure and young engineers just like us looking to get into the nuclear field."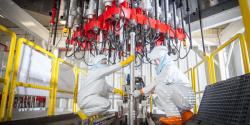 Photo: Hundreds of skilled nuclear professionals are trained each year at GE Hitachi's under-vessel training facility at the company's world headquarters in Wilmington, North Carolina. [Photo: GE Hitachi Nuclear Energy]
CFE owns and operates the two Laguna Verde reactors, which provide 5 percent of Mexico's electricity and 10 percent of its zero-emission electricity. GE Hitachi Nuclear Energy supplies the plants with fuel, outage services, spare parts and other components. Multiple U.S. companies deeper in the nuclear supply chain provide equipment, design and engineering services to the reactors.
That trade has long been conducted under a trilateral project supply agreement with the International Atomic Energy Agency. However, recent changes to the U.S. Department of Energy's Part 810 nuclear export control regulations make a bilateral Section 123 agreement more favorable.
"We now have to have an 810 specific authorization for anyone we want to talk to CFE, the Energy Ministry, the regulator, labs and even our own employees who are Mexican nationals. We must have those 810s in place," Sledzik says.
If instead a new Section 123 agreement were in place, the pact would replace the present project supply agreement, streamlining the transfer of technology, fuel and other major nuclear components between the two countries.
"A 123 agreement helps to open the door to make information flow faster," Sledzik says. "We still have to acknowledge to DOE the information that we're sending and discussing, but it makes it a lot easier to do business."
Bringing the Section 123 agreement into force will be vital for GE Hitachi and other U.S. suppliers to participate in projects under active consideration by the Mexican government, including the construction of two new nuclear plants which could begin operating in the late 2020s.
"If we have this 123 agreement in place, it makes it much easier to be in the competition to sell a new plant to Mexico," Sledzik says. "And if we win, it can create thousands of jobs, not just initially for the construction but for maintenance and refueling for the next 80 years. These are large infrastructure projects that are going to be around for a long time."
Those new reactors could potentially generate more than $2 billion in direct U.S. exports, supporting more than 10,000 jobs in more than 20 states.
With their long relationships in Mexico and expertise, one would think GE Hitachi Nuclear Energy or another American company would be a natural for the job, Sledzik says. But the firm will face stiff competition from companies based in South Korea, France, Russia, and perhaps Japan and China.
In fact, CFE recently hosted nuclear energy trade missions from France, China and Russia countries with strong nuclear export industries. In part to keep up with this international competition, NEI in cooperation with the Mexican embassy and the U.S. Department of Commerce is conducting a trade mission to Mexico this June.
"The mission shows our continued interest in Mexico and CFE as a customer," Sledzik says. "It shows our support for their continued effort to build additional nuclear plants and it can also show American companies who have not done a lot of work there that there are potential opportunities."
Sledzik adds that support from the U.S. Export-Import (Ex-Im) Bank and the funding options they provide to exporters and their customers is very important for demonstrating to potential customers abroad that U.S. companies are serious about concluding a commercial nuclear deal.
"It would probably be very difficult for the customer to find the right financing package without support from Ex-Im Bank," Sledzik says. "It would also lead them to look at other vendors outside the U.S. South Korea, France, Russia to support the financing, if we didn't have it."
The United States and Mexico are working on a Section 123 agreement. The nuclear industry has urged the administration to submit the agreement for congressional review.
"This is an important agreement that we need in place to continue the relationship with Mexico," Sledzik says. "The opportunity to create jobs in the U.S. is there it can create thousands of additional jobs in support of exports." 
For more information:
Organization:
Nuclear Energy Institute (NEI)

Address:
1776 I St NW
Washington, District of Columbia
United States, 20006-3708
www.nei.org
Tel: 202-739-8000

Contact:
Nuclear Energy Institute (NEI)
Tel: 202.739.8000 or 703.644.8805
E-mail: media@nei.org