Enbridge Inc.


Enbridge Inc. Announces AGM Voting Results and Election of Directors
---
May 16, 2017
Enbridge Inc. (TSX:ENB)(NYSE:ENB) (Enbridge or the Company) held its Annual General Meeting today (5/11), the first since combining with Spectra Energy Corp (Spectra Energy) and becoming North America's largest energy infrastructure company. Addressing shareholders, President and CEO Al Monaco provided an update on the Company's accomplishments and future opportunities, and its priorities of safety, execution of the growth plan and focus on customers and communities. He outlined the benefits to shareholders of Enbridge's combination with Spectra Energy, which closed in the first quarter. Mr. Monaco's full address to shareholders can be found on Enbridge's website under Events and Presentations.
During the regular business proceedings at the meeting, shareholders approved the election of all nominated directors. The detailed results of the vote for the election of directors are set out below.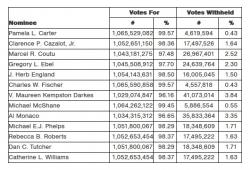 About Enbridge Inc.
Enbridge Inc. is North America's premier energy infrastructure company with strategic business platforms that include an extensive network of crude oil, liquids and natural gas pipelines, regulated natural gas distribution utilities and renewable power generation. The Company safely delivers an average of 2.8 million barrels of crude oil each day through its Mainline and Express Pipeline, and accounts for nearly 68% of U.S.-bound Canadian crude oil production, and moves approximately 20% of all natural gas consumed in the U.S. serving key supply basins and demand markets. The Company's regulated utilities serve approximately 3.5 million retail customers in Ontario, Quebec, New Brunswick and New York State. Enbridge also has a growing involvement in electricity infrastructure with interests in more than 2,500 MW of net renewable generating capacity, and an expanding offshore wind portfolio in Europe. The Company has ranked on the Global 100 Most Sustainable Corporations index for the past eight years; its common shares trade on the Toronto and New York stock exchanges under the symbol ENB.
Life takes energy and Enbridge exists to fuel people's quality of life.
For more information:
Organization:
Enbridge Inc.

Address:
3000 Fifth Ave Pl
Calgary, Alberta
Canada, T2P 3L8
www.enbridge.com
Tel: 403-231-3900

Contact:
Jonathan Gould
Investment Community
Tel: (403) 231-3916
Toll-free: (800) 481-2804
E-mail: jonathan.gould@enbridge.com

Contact:
Suzanne Wilton
Media Relations
Tel: (403) 231-7385
Toll-free: (888) 992-0997
E-mail: suzanne.wilton@enbridge.com