Publisher
Jaguar Inc.
Editor
Gordon McCormick
Publication Manager
Steven Desrochers
Production Assistant
Danielle Bernier
Annik Cyr
Art Director
Linda Fleury
(MIS) Management Information System
Frédéric Allard
Production Department
Danielle Bernier
Account Executive
Joanne Mayoff
Allan Silverstone
Electric Energy Magazine is published 6 times a year by:
Jaguar Expo Inc.
CP 50514 Carrefour-Pelletier
Brossard, Quebec Canada J4X 2V7
Tel.: (888) 332-3749
Fax: (888) 243-4562
E-mail:
jaguar@jaguar-media.com
Electric Energy T&D Magazine serves the fields of electric utilities, investor owned, rural and other electric cooperatives, municipal electric utilities, independent power producers, electric contractors, wholesalers and distributors of electric utility equipment, manufacturers, major power consuming industries, consulting engineers, state and federal regulatory agencies and commissions, industry associations, communication companies, oil & gas companies, universities and libraries.
«4» Industry News
«24» Power Generation Showcase Section
«42» Product Showcase
«44» Advertisers Index
Cover:GE 7FB 280 MW, 60 HZ Combined Cycle Gas Turbine GE Power Systems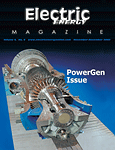 (0MB)
8
Russ Garrity, General Physics Corporation
To be competitive in a "deregulated" market, power plant workers must be better qualified and more versatile than ever.
15
Brad True General Manager SmartSignal Corporation
The electric power industry is in the midst of fundamental change.
17
Jeffery E. Fisher, Vice President, of NOx Systems, WAHLCO, INC.
Commercial scale conversion of urea to ammonia has recently been reduced to practice in response to an increased need for ammonia, particularly in NOx reduction applications, and a growing public concern over ammonia transportation, transfer and storage.
20
Russell Straayer, President, Data Comm for Business, Inc.
Management Interface Makes Life Easier for Communications Tester
34
John Mee, Mee Industries Inc.
Need More Power? TransAlta Energy Cogeneration, located in Mississauga, Ontario, operates two GE LM 6000 aeroderivative, base-loaded turbines (each rated at 42 MW).
37
Leslie Robins, Marketing Manager, LASCOM Solutions, Inc., San Diego, California
Has your organization spent precious time and money implementing an Information Technology (IT) business solution only to have it fall short of user expectations?
40
Professor B. Pahlavanpour and Dr M. Eklund, Nynas Naphthenics AB, SE-149 82 Nynashamn, Sweden
This paper gives a background to the importance of monitoring the insulating oil quality in service.