Electric Energy Magazine is published 6 times a year by:
Jaguar Expo Inc.
CP 50514 Carrefour-Pelletier
Brossard, Quebec Canada J4X 2V7
Tel.: (888) 332-3749
Fax: (888) 243-4562
E-mail:
jaguar@jaguar-media.com
Electric Energy T&D Magazine serves the fields of electric utilities, investor owned, rural and other electric cooperatives, municipal electric utilities, independent power producers, electric contractors, wholesalers and distributors of electric utility equipment, manufacturers, major power consuming industries, consulting engineers, state and federal regulatory agencies and commissions, industry associations, communication companies, oil & gas companies, universities and libraries.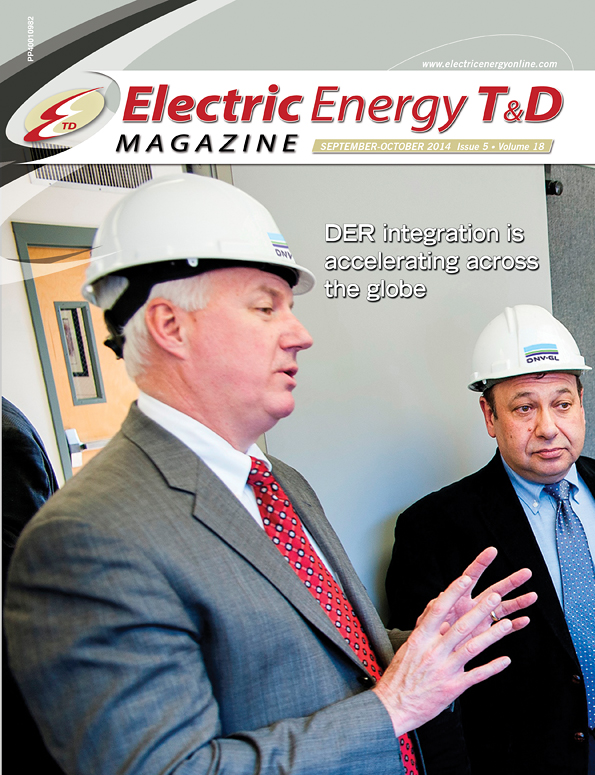 (6MB)
4
Terry Wildman, Editor-in-Chief
Not long ago I asked my close friend, a tenured professor at one of the most respected centres of learning in North America, what he and his fellow academics felt about Canada as a country and how Americans might feel about Canada becoming the 51st State.
14
Hugo van Nispen, Executive Vice President of Global Energy Advisory Services, DNV GL
We are in discussion with Hugo van Nispen, DNV GL's Executive Vice President of Global Energy Advisory Services. DNV GL, the largest independent global energy consultancy, works actively to help utilities, grid operators, and governmental and regulatory organizations to transition to a safer, smarter, greener energy future.
17
Gilles Betis, chair, IEEE Smart Cities Initiative
One intriguing aspect of human nature is the knowledge that we can shape our own future. Yet failure to do so leaves us at the mercy of external forces and unintended consequences.
20
Galen Rasche, Senior Program Manager, Power Delivery And Utilization Sector, EPRI
The reliable and efficient delivery of electric power increasingly depends on information technology (IT) and communication infrastructures.
22
Rick Shumard and Steve Schneider
In the U.S. energy market, the ownership breakdown is a mix of regulated investor-owned utilities, municipal electric utilities, rural electric cooperatives, federal power marketing agencies and independent power producers.
27
Jeremy Wilson
Historically, traditional voltage regulation techniques based on power-flow modeling have been sufficient for distribution system control: delivery of a nominal service voltage with a range of +/- 5% (e.g. 114V-126V) to an unengaged electric energy consumer with one-way power flow.
30
John Kullmann
A major storm has hit the area. Thousands, maybe even tens of thousands, are without electricity.
34
Jason Tower
For the contactors, utilities, and cooperatives who use them, the platform of a bucket truck is likely to be associated with helping customers.
37
William T. (Tim) Shaw, PhD, CISSP / CIEH / CPT
Way back in 2003, not long after the country had gotten back on its feet after the horrible impacts of the terrorist events of 9/11, the NERC board of Trustees issued Urgent Action Standard 1200 addressing cyber security.
39
Brian Crow
It's safe to say that outage management is a top priority and concern for electric utilities.
41
Patrick Frigge
The deployment of advanced distributed power technology is critical to the establishment of more flexible and dependable decentralized energy power supplies around the globe.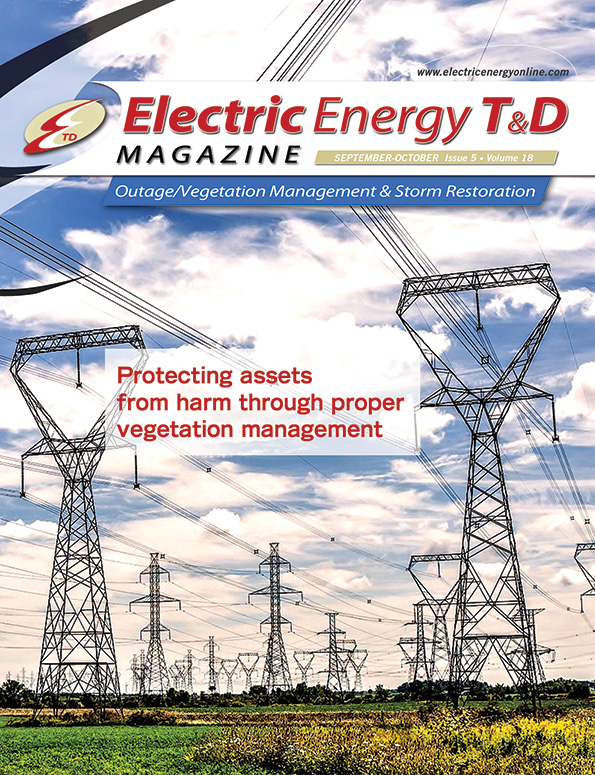 (2MB)
2
Damien Polansky and Brent Richardson
'Be Prepared' certainly has grown beyond the purview of the Boy Scout motto. Being prepared is at the heart of the ability to anticipate unexpected events, know what you intend to do to survive or mitigate risk from that event, and how quickly you can bounce back. In a word, resiliency.
6
Dan Zapotok
Since the August 2003 blackout in the Northeast, electrical grid reliability has been under heavy scrutiny. Circumstances leading up to that massive power outage – as well as other modern-day blackouts in the United States – have been thoroughly examined.
11
Graham Eason
Manitoba Hydro first started testing line sensors in 2006. We suspected that a number of stations on our distribution system were reaching capacity and might need upgrades, but we didn't have consistent, quality data to support our planning decisions.
14
David Rizzo
How much can you afford to lose? For any CEO or manager in charge of a plant that purchases electricity in bulk, that question must be faced when considering the replacement of a power transformer.