Electric Energy Magazine is published 6 times a year by:
Jaguar Expo Inc.
CP 50514 Carrefour-Pelletier
Brossard, Quebec Canada J4X 2V7
Tel.: (888) 332-3749
Fax: (888) 243-4562
E-mail:
jaguar@jaguar-media.com
Electric Energy T&D Magazine serves the fields of electric utilities, investor owned, rural and other electric cooperatives, municipal electric utilities, independent power producers, electric contractors, wholesalers and distributors of electric utility equipment, manufacturers, major power consuming industries, consulting engineers, state and federal regulatory agencies and commissions, industry associations, communication companies, oil & gas companies, universities and libraries.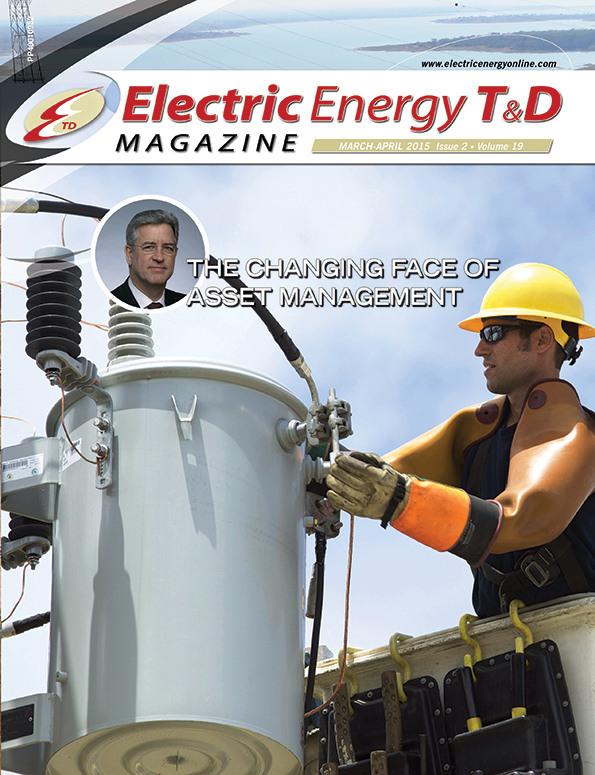 (5MB)
4
Terry Wildman, Editor-in-Chief
A few weeks ago, I attended the DistribuTECH Conference in San Diego. Every year the show is an eye-opener because every year the level of innovation and intellect on that floor gets greater for me.
12
Rodger Smith, Senior Vice President & General Manager, Oracle Utilities Global Business Unit
As both utility workforces and infrastructure continue to age, asset management takes on an increasingly vital role. We asked Rodger Smith, senior vice president and general manager of Oracle Utilities Global Business Unit, to share his views on the changing face of utility asset management, and the drivers for these changes.
17
Cara Olmsted, Director of Marketing & Business Development, ConEdison Solutions
In an earlier era, responsibility for maintaining the reliability of America's power systems rested chiefly in the hands of public utilities and electric power grid systems.
21
Raiford L. Smith, CPS Energy; Matt Wakefield, EPRI; and Stuart Laval, Duke Energy
Much has been written about the role of distributed energy resources (DER), smart meters and other grid connected devices, but the next revolution for the smart grid comes from the utilization of advanced analytics and interoperability.
23
Monica Lambe
High-voltage circuit breaker equipment represents a substantial investment for any utility, especially when coupled with today's sophisticated new grid technologies.
26
Mark Madden
There is a big change on the horizon that will impact every utility in the United States, and ultimately worldwide. Telecommunications service providers (what we typically refer to as 'the carriers') are phasing out circuit-switched phone service in favor of more advanced IP/Ethernet-based offerings.
29
Scott Foster
The current state of the smart grid is not enough for the needs of utilities and their customers. Today's 'smart grid' is not truly a smart grid, but simply smarter metering.
31
Rudi Carolsfeld and Mike Rowling
Dark lager beer tastes good. With a little bit of imagination we can also use beer to illustrate something that few Big Data system vendors want to admit when promoting meter data analytics systems to electricity distribution companies.
33
Don Angell
Since the 1960's, electric power systems – and the demands on those systems -- have grown substantially. Many power grid assets are getting old enough to retire, as is the baby boomer generation that has been servicing and caring for these assets.
35
Bert Williams
Substations and other critical utility infrastructure are increasingly becoming the target of physical security attacks, including trespassing, vandalism, theft, and sabotage.
38
Eric L. Prentis
The economic theory of 'free market' competition naturally achieving lower electricity prices in restructured electric utility states is empirically tested in restructured states, pre-and-post restructuring, relative to U.S. electricity prices.