Electric Energy Magazine is published 6 times a year by:
Jaguar Expo Inc.
CP 50514 Carrefour-Pelletier
Brossard, Quebec Canada J4X 2V7
Tel.: (888) 332-3749
Fax: (888) 243-4562
E-mail:
jaguar@jaguar-media.com
Electric Energy T&D Magazine serves the fields of electric utilities, investor owned, rural and other electric cooperatives, municipal electric utilities, independent power producers, electric contractors, wholesalers and distributors of electric utility equipment, manufacturers, major power consuming industries, consulting engineers, state and federal regulatory agencies and commissions, industry associations, communication companies, oil & gas companies, universities and libraries.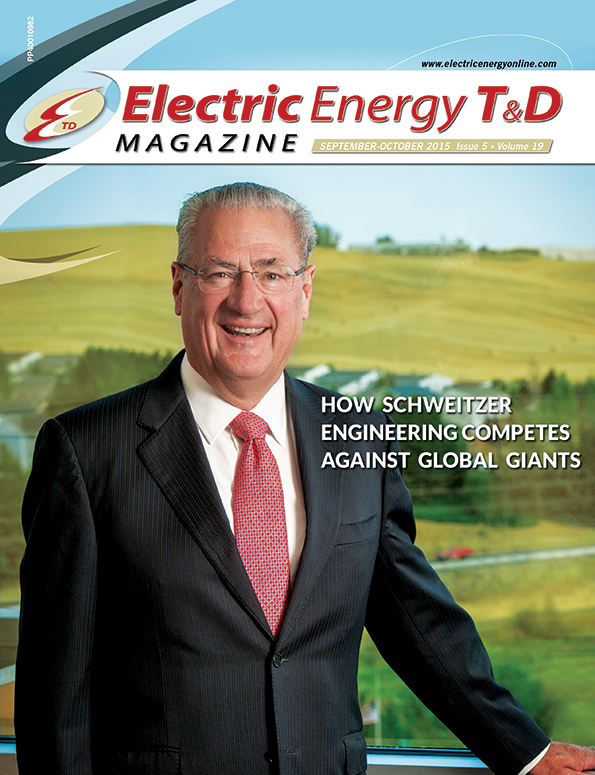 (5MB)
4
Terry Wildman, Editor-in-Chief
Canada is currently in the throes of an election campaign heading towards an October date when a new federal government will be elected to run the country.
13
Gary Rackliffe
In August of 2007, the National Energy Technology Laboratory (NETL) released its 'Modern Grid Benefits' report for the U.S. Department of Energy's Office of Electricity Delivery and Energy Reliability as part of the NETL Modern Grid Initiative, Powering our 21st-Century Economy.
16
Gord Echlin
In 2014 New Yorkers spent $21.9 billion on electricity. Not surprisingly, state and municipal governments continue their efforts to raise citizens' awareness of electricity consumption, promote conservation efforts, and reduce overall demand.
18
Pat Brown
As utilities have deployed more and more network analysis applications, silos have developed; each application frequently has its independent users, its independent model maintenance group, and its individual modeling processes and assumptions.
22
Mary Josephs
Schweitzer Engineering Laboratories (SEL), a manufacturer of sophisticated equipment for utilities and other power systems, is looking to hire scores of electrical engineers right now.
25
Jason Symonds, Suman Gautam, Kristina Kelly, and Bert Taube
On August 3, 2015, the U.S. Environmental Protection Agency (EPA) announced the finalized language of their Clean Power Plan (CPP).
29
Bill Schleicher, Director, UISOL an Alstom Company
Many U.S. utilities have completed, or are nearing completion of, their Advanced Metering Infrastructure (AMI) and Meter Data Management System (MDMS) rollouts.
33
Jenny Malcolm
Automatic Vehicle Location (AVL) technology is no longer in the 'nice to have' category of needs and wants for companies in the electric energy industries; it is a very necessary tool for business intelligence.
36
Scott Foster
Given the current immigration situation between Haiti and the Dominican Republic, it would be remiss not to acknowledge the devastation caused by the 7.0 magnitude quake that hit Haiti in 2010, the effects of which are still omnipresent in the small country.
38
William T. (Tim) Shaw, PhD, CISSP / CIEH / CPT
Over the last few years I have had ample opportunity to see organizations attempting to implement cyber security in industrial plants and facilities (such as power generating stations) all too often using guidance and best practices borrowed from the IT world.
41
Keith Hupperts and Shylesh Muralidharan
Utilities today face a myriad of complex challenges – from aging infrastructure to changing regulation and increasing customer demands – but the biggest issue for many utilities is something that has traditionally been hard to predict: increasing severe weather and its impact on infrastructure.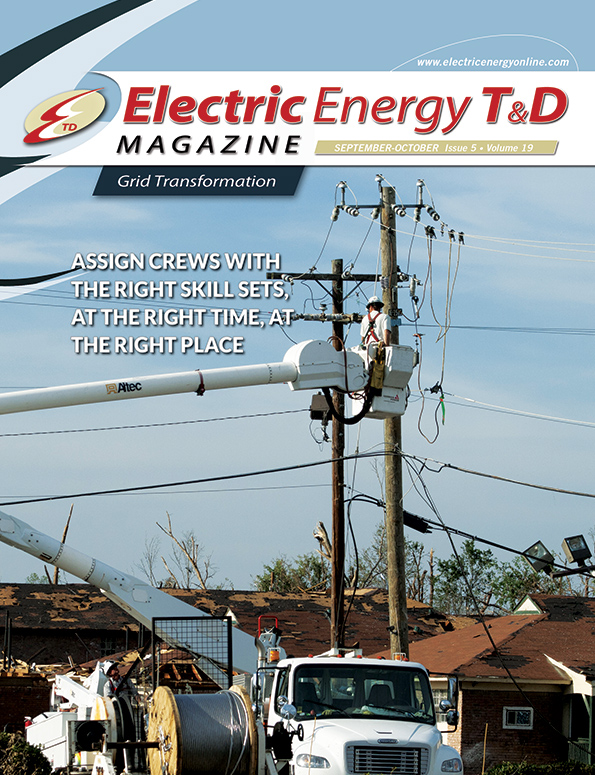 (1MB)
2
Scott Grafelman and Forrest Small
For the past three years BRIDGE Energy Group has conducted its utility industry survey. Part of the survey examines outage and restoration management, and how utilities are using advanced technology to improve operational performance.
6
Edna Menon
For utilities, assigning work to crews – with the right skill sets, at the right time, and at the right place – is essential for effective field operations.
11
Balu Ambady
We live in a connected world, with much of our personal information easily accessible through the tap of a finger or the click of a mouse. This connectivity can improve our quality of life, but with progress comes increased security risks.
14
Matthew Ferraro
A severe ice storm hit southern Ontario on December 22, 2013 knocking out electricity to thousands of homes and businesses. Heavy ice covered branches and winds gusting to 50 kilometres per hour caused branches to snap and fall on power lines.