Publisher
Jaguar Inc.
Editor
Gordon McCormick
Contributing Editor

Publication Manager
Steven Desrochers
Account Executive
Joanne Mayoff
Production Assistant
Danielle Bernier
Art Director
Linda Fleury
(MIS) Management Information System
Frédéric Allard
Electric Energy Magazine is published 6 times a year by:
Jaguar Expo Inc.
CP 50514 Carrefour-Pelletier
Brossard, Quebec Canada J4X 2V7
Tel.: (888) 332-3749
Fax: (888) 243-4562
E-mail:
jaguar@jaguar-media.com
Electric Energy T&D Magazine serves the fields of electric utilities, investor owned, rural and other electric cooperatives, municipal electric utilities, independent power producers, electric contractors, wholesalers and distributors of electric utility equipment, manufacturers, major power consuming industries, consulting engineers, state and federal regulatory agencies and commissions, industry associations, communication companies, oil & gas companies, universities and libraries.
«8» Industry News
«27» GITA Annual Conference & Exposition
March 2nd-5th, San Antonio,TX
«48» 4th Annual EnerCom Energy Conference & Expositon
March 4th-5th,Toronto, ON
«57» Global ESMO 2003 (IEEE-PES 10th Conference)
April 6th-10th, Orlando, FL
«68» 2003 International Conference of Doble Clients
April 6th-11th, Boston, MA
«77» Utility Safety Conference & Expo
April 23rd-24th, San Antonio,TX
«79» Product Showcase
«80» Advertisers Index
Cover:HELINASTM Live Line work on 500 KV in Manitoba, Canada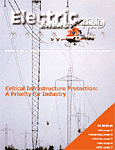 (18MB)
4
Francis Bradley, Vice-President, Canadian Electricity Association, bradley@canelect.ca
Potential threats to the continued supply of electric power can come from many quarters and can take many forms.
14
J. E. (Jim) Koop, W.I.R.E. Services/Manitoba Hydro
In today's changing utility environment, one thing remains constant - electric utilities are continually looking for better ways to increase transmission capacity to satisfy the ever-growing demand for power.
18
Randell B. Hirschmann, Oberon Company, Div. Paramount Corp
There have been several recent developments in the standards of Electrical Safety.
22
Chris Harlow
A lot has changed since my first involvement with the AM/FM/GIS over two decades ago.
42
Greg Patton, Vice President, Patton & Cooke Co.
In spite of all the rhetoric about "getting the lead out", most larger North American urban centers are still maintaining some form of medium voltage underground network power distribution system using paper insulated, lead covered (PILC) cables.
52
John Pointon, Director of Sales & Marketing, OmniSTAR
Developments in GPS (the Global Positioning System) and DGPS (Differential GPS) over the last few years have greatly changed the options for geo-location procedures in the survey and utilities mapping industry.
60
Chuck Drinnan, Director of GIS Applications, LogicaCMG's energy and utilities
Comparing the utility industry ten years ago to the industry today is like comparing checkers to chess.
74
Terry Wildman & Iain Ritchie, LeT Systems.
It's no secret global weather patterns are changing dramatically with larger, more violent, and further reaching storms of all types and in all seasons slamming communities more frequently and randomly.