Electric Energy Magazine is published 6 times a year by:
Jaguar Media Inc.
834 Montée Masson
Terrebonne, Quebec Canada J6W 2C6
Tel.: (888) 332-3749
Fax: (888) 243-4562
E-mail:
jaguar@jaguar-media.com
Web:
www.electricenergyonline.com
Electric Energy T&D Magazine serves the fields of electric utilities, investor owned, rural and other electric cooperatives, municipal electric utilities, independent power producers, electric contractors, wholesalers and distributors of electric utility equipment, manufacturers, major power consuming industries, consulting engineers, state and federal regulatory agencies and commissions, industry associations, communication companies, oil & gas companies, universities and libraries.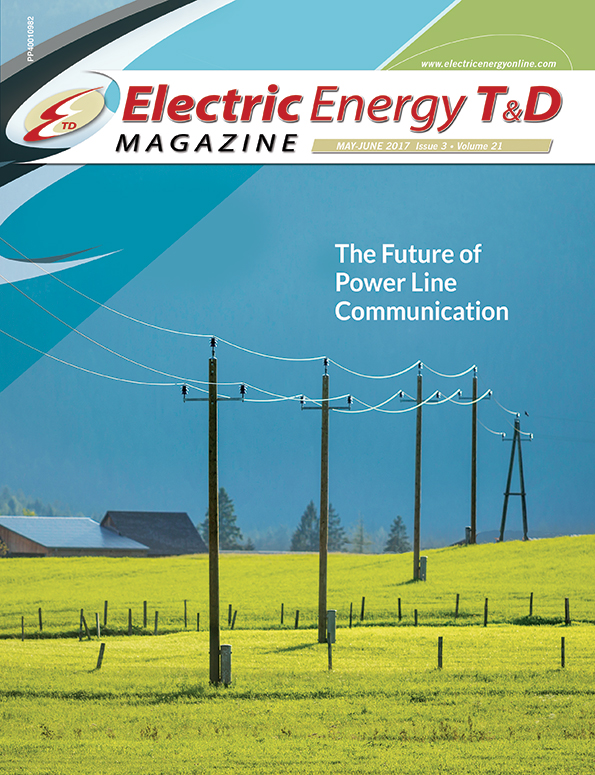 (3MB)
4
Elisabeth Monaghan
If you've just done a double take, you've probably realized I am not Terry Wildman. My name is Elisabeth Monaghan, and I am the new editor in chief for EE T&D.
9
Lily Ho
We are speaking with Lily Ho, Vice President of Product Management for Aclara.
12
Ross Malme
Since the turn of the century, the United States has been the world leader in creating opportunities for demand response (DR) in wholesale electricity markets.
15
Tim Godfrey and Chris Kotting
The energy industry recognizes the need to improve the performance, reliability, and security of utility communication systems used for distribution automation, telemetry, and control.
17
Scott Coleman
Modern advancements in grid systems enable marked improvements in efficiency, production, reliability, and safety, all through increased use of "smart" assets and digital communications.
20
Ron Chebra
When it comes to connected things operating interactively and in close harmony with other assets, one just needs to look at the electric grid as a prime example of how efficiencies and optimization can be achieved by leveraging remote monitoring and control.
24
Dr. Ronald O. Mueller and Jason Singer
Academic and industry researchers continue to press ahead to create ever new and better weather forecasting models (WFM).
26
Glen Sartain
Today's utility industry stands on the precipice of discovering new insights that will transform the future of their business in terms of both strategic growth and operational efficiencies through the power of analytics.
29
Dr. Tim Shaw
A topic that comes up quite often when discussing cyber security is the use of passwords and what is the right size and complexity and how often should you change them.