Publisher
Jaguar Inc.
Editor
Gordon McCormick
Contributing Editor

Publication Manager
Steven Desrochers
Account Executive
Joanne Mayoff
Production Assistant
Danielle Bernier
Art Designer
Linda Fleury
(MIS) Management Information System
Frédéric Allard
Electric Energy Magazine is published 6 times a year by:
Jaguar Expo Inc.
CP 50514 Carrefour-Pelletier
Brossard, Quebec Canada J4X 2V7
Tel.: (888) 332-3749
Fax: (888) 243-4562
E-mail:
jaguar@jaguar-media.com
Electric Energy T&D Magazine serves the fields of electric utilities, investor owned, rural and other electric cooperatives, municipal electric utilities, independent power producers, electric contractors, wholesalers and distributors of electric utility equipment, manufacturers, major power consuming industries, consulting engineers, state and federal regulatory agencies and commissions, industry associations, communication companies, oil & gas companies, universities and libraries.
«10» Industry News
«22» Metering/Billing/CRM/CIS Americas
May 4th-8th, 2003
«46» CIS Conference
May 31st-June 3rd, 2003
«51» Key Women In Energy
Global Award Winners
«60» EEI Annual Convention
June 1st-4th, 2003
«67» Product Showcase
«68» Advertisers Index
Cover:Lodestar Corporation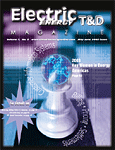 (11MB)
4
Francis Bradley, Vice-President, Canadian Electricity Association, bradley@canelect.ca
Each year, the Canadian Electricity Association brings together industry executives and policy specialists to review the state of the North American Electricity market and develop policy proposals aimed at improving market functioning, reliability and security.
13
Donald L. Schlenger, Ph.D.
The North American electric utility industry is quickly moving to a point where the debate over whether to deploy AMR will be a thing of the past.
19
Pete Scarpelli, Vice President Marketing & Business Development, RETX
Have you ever watched "The Antique Road Show" on PBS Television?
34
Lee Margaret Ayers, Director T&D Utilities OSIsoft and Bill Thomas, Director of Business Systems, E&C Services, AMEC
America needs to defend itself from terrorists, we need homeland security, but at what cost?
40
Bob Brnilovich, Senior Vice President, Global Professional Services, SPL WorldGroup
In the mid-1990s, North American electric utilities enthusiastically embraced the concept of Customer Relationship Management (CRM).
44
Gerald Mimno, CEO, Advanced AMR Technologies LLC
Electric meters share this with children - They can earn more later if they have more education now.
48
William D. Barry, senior V.P. of sales and marketing, Docucorp International
Amidst the precipitous drop in overall IT investment, corporate spending on customer-focused applications, such as customer relationship management (CRM), has been a bright spot.
64
Joe Franz, Product Manager, LODESTAR
Gas companies understand very well that price is important. But saying something is important is different from saying that it is your business — which, if true, implies a fresh perspective.